Ed Speleers: 'I've got every right to be angry in Beowulf – I should have been king!' (VIDEO)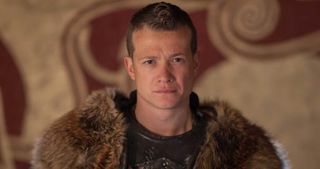 Former Downton Abbey star Ed Speleers says his character in ITV's epic drama Beowulf is full of angst and has every right to be, because he should have been Thane (king).
Ed told What's on TV that Slean is the most complex character he's ever played in the 12-part drama set in Britain's mythic past. His father (William Hurt) denies him his birthright and instead passes on the the crown to his mother (Joanne Whalley).
Ed, who starred as footman Jimmy Kent in Downton, said Slean was the most complex character he's ever played.
"Good characters should have light and dark anyway," he said. "I don't think it's a clear-cut case of him being the bad guy. Yes, he's angsty, but he's got a lot to be angry about. His dad, who basically rejected him most of his life, has now just died and he should have made [Slean] king, should have made me Thane as my birthright. But he didn't and he gave it to my mother, there's never been a female Thane before, the one person in my family who I'm actually close to. He's messing with my head, he's messing with the one strong relationship I've got with my family."
Ed continued: "Then you factor in Beowulf, who is one of the main reasons me and my father had such problems. Beowulf could do no wrong in my father's eyes. This guy came in as a kid and took my father's affections and he's still doing it once my father's dead, so he's got every right to be angry."
Watch the interview with Beowulf star Ed Speleers, above. "]
Beowulf continues on ITV on Sunday evenings.
Get the latest updates, reviews and unmissable series to watch and more!
Thank you for signing up to Whattowatch. You will receive a verification email shortly.
There was a problem. Please refresh the page and try again.