Elaine Cassidy: "No Offence is really brave in the areas it goes to but it is done in a sensitive way."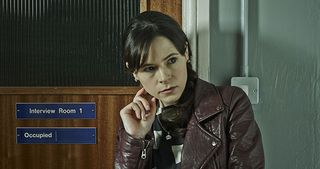 (Image credit: Phil Fisk)
Judging by Vera, Scott & Bailey and Happy Valley's Catherine Cawood the current crop of female detectives on TV are no pushover.
But none of them is quite as much of a force to be reckoned with as the three policewomen in new C4 new crime drama No Offence, co-written by Paul Abbott.
We catch up with Joanna Scanlan, Elaine Cassidy and Alexandra Roach, to talk about what could be the most outrageous police show yet…..
Joanna, you play DI Vivienne Deering who heads up a dedicated but dysfunctional team of cops. What's her character like?
Joanna: "You would generously use the term 'eccentric' and, less generously, the word 'barmy' about her. She is an old school detective who is fearless, passionate and driven with a strong moral principle and a need to protect the vulnerable but she goes about things in a pretty unusual way. She's not always perfect but people respect her and she cares about her team."
Playing alongside you is straight-laced DC Joy Freers (Alexandra Roach) and instinctive single mum DC Dinah Kowalska (Elaine Cassidy). What's their relationship like?
Joanna: "The drama sets off in an exciting way due to the dynamic between those three women. It's not quite like a mum and her daughters but there is almost a family quality with the tensions, love and the connectedness that's there."
There is a shock in store when nervy Joy is unexpectedly promoted to sergeant, but the job should have gone to her best friend, talented, intrepid Dinah. How does that happen?
Elaine: "It's lovely that it's about strong women and Dinah is ambitious, capable and, like Deering, she is not by-the-book, so when it comes to promotion it's obvious she should get it, but she makes a mistake and things get tricky."
How does Joy cope with her new position?
Elaine: "She is a buttoned-up nerd, doesn't follow her instincts and is in no way a leader. She has to step up but she gets stressed."
Alexandra: "Deering's a hard task master but she takes her under her wing, and Joy looks up to her, as I do with Joanna."
Alexandra, some of your own family are police officers. Did you turn to them for any advice when making the series?
Alexandra: "My dad was a bobby in South Wales, my brother is a bobby and my sister just left the force, so when I got this job, I thought, 'Yes! My time has come'. For one scene we had to flash our warrant cards and I even got them to FaceTime me to show me how to do the proper procedure."
The series is quite hardhitting in places. There one disturbing storyline about a crazed killer targeting young women with Down's Syndrome...
Elaine: "It's really brave in the areas it goes to but it is done in a sensitive way. Comedy is the best vehicle for tackling difficult subjects because it catches you off-guard and makes it easier to digest."
The series has an irreverent comic tone and some of the scenes are set in a toilet, where several banter-filled meetings take place. What was it like to film in such a small place?
Elaine: "It's a safe place to discuss things but it also shows how they are not slick, they don't have the budgets or manpower, they just get the job done. But it was worse than being in a sauna, there was no air and it got really hot, so when we were there the whole day, we just felt lifeless at the end."
Elaine, you suffered an injury during one of your scenes in which Dinah had to chase a suspect. How did it happen?
Elaine: "In the script it said: 'Dinah runs and crunches her ankle, but overrides the pain and keeps running'. I did exactly what it said and ended up with a sprained ankle and ligament damage so I told Paul to be careful what he put in the scripts after that!"
No Offence starts on Tuesday May 5 at 9pm on Channel 4.
Get the What to Watch Newsletter
The latest updates, reviews and unmissable series to watch and more!