Poldark star Eleanor Tomlinson: 'Ordeal By Innocence is so creepy!'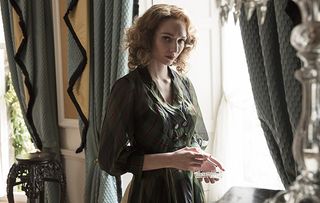 (Image credit: BBC/Mammoth Screen/ACL/James Fis)
Ordeal By Innocence actress Eleanor Tomlinson on starring in the Agatha Christie whodunit and why her character is very different from Poldark's Demelza
Eleanor Tomlinson is a far cry from Poldark's Demelza in her new Agatha Christie drama Ordeal By Innocence. BBC1's three-part series, set in the mid-1950s, sees Eleanor play troubled Mary Durrant, whose adoptive mother, wealthy but domineering matriarch Rachel Argyll (Anna Chancellor) is viciously murdered. Jack (Anthony Boyle), Mary's adoptive brother, is arrested for the crime and dies in prison, but it later becomes clear that he may not have been guilty…
Here, Eleanor Tomlinson, tells What's On TV what's in store in her new Agatha Christie adaptation Ordeal By Innocence…
What's On TV What can you tell us about Mary?
Eleanor Tomlinson: "Rachel and her husband Leo [Bill Nighy] adopted five children and each of them is different and has had problems relating to fact that they were adopted by this neurotic mother and bizarre father. Mary is very insecure and just wants to wants to be loved. She's also in an unhappy marriage to disabled Philip [Matthew Goode] and has become quite unhinged due to a lack of support."
WOTV How is she different from Demelza in Poldark?
ET: "I'm known as Demelza, who is so strong and fiery, so to play the complete opposite is fun, refreshing and challenging because Mary has no strength or fight to her."
WOTV How do the Argyll family react when a stranger, Dr Calgary (Luke Treadaway) arrives with an alibi proving that Jack was innocent?
ET: "They're upset and they don't believe him but as he persists, they realise there might be some truth to what he says. There's a lot of heartache and they are afraid because it shows up the cracks in the family. You're never sure as an audience who has done it. It's creepy, but fun!"
WOTV Did you guess whodunit in Ordeal By Innocence?
ET: "No! Everyone's a suspect in this but I was hopeless at working out whodunit. I got to the last page of the script and just said, 'OMG!' Agatha Christie wrote such fun stories that kept people guessing and on the edge of their seats. Viewers will be surprised."
WOTV Poldark will be back soon, could you imagine how popular it would become?
ET: "No, I'm amazed. It's fantastic being part of something that people have taken to their hearts, it's a lovely job. Demelza is such an amazing character too. She's so inspiring and such a strong woman."
Ordeal By Innocence airs on Easter Sunday on BBC1 at 9pm
Interview by Victoria Wilson
Get the latest updates, reviews and unmissable series to watch and more!
Thank you for signing up to Whattowatch. You will receive a verification email shortly.
There was a problem. Please refresh the page and try again.