EXCLUSIVE: Poldark's John Hollingworth on Captain Henshawe's shocking exit!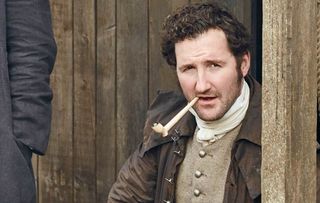 (Image credit: Mammoth Screen / BBC)
After tonight's dramatic Poldark episode, John Hollingworth reveals all about leaving character Captain Henshawe behind...
SPOILER ALERT! Don't read on if you haven't watched tonight's episode of Poldark!
After the dramatic rescue mission spearheaded by swashbuckling hero Ross Poldark tonight, Dr Dwight Enys and Lieutenant Hugh Armitage have managed to escape from the prisoner-of-war camp in France.
But their freedom has come at a hefty price as all-round good guy Captain Henshawe was fatally wounded during their escape.
We exclusively caught up with actor John Hollingworth to talk about his shocking exit from the hit BBC1 costume drama…
What a cracking episode tonight, John! We're very sad, though, that Captain Henshawe, a sturdy staple on the show since series one, has met his demise. We may have shed a tear or two!
"Ahh. Well I won't say it's great to hear that we made you cry, but I'm really pleased that the episode had the desired dramatic effect. Our writer Debbie Horsfield is so careful about how she structures the show, and one of her strengths is knowing when the audience needs a big moment of drama and when they need a big moment of relief. Those moments, such as when baby Julia died in the first series and Francis Poldark died in the second run, Debbie handles incredibly well. It's great to hear that this episode has had the impact we all wanted it to have."
The prison break scenes were filmed in Wells last autumn amid torrential rain. That must have posed some challenges!
"It was so cold! The production team are brilliant at keeping us warm, but it was chucking it down with rain so much that there was no point even getting an umbrella as we were all so soaked! It was real challenge to shoot in those wet, cold, dark conditions for a whole week. But I was really pleased with how it looked, the weather actually brought a certain atmosphere to the scenes."
You were very excited ahead of filming this dramatic episode. But was it somewhat bittersweet, knowing these scenes were your last as Henshawe?
"Bittersweet is exactly the word. It's been a real pleasure to do 20 episodes and three series of something that has had the success and reach that Poldark has. My last day was filming on the boat going out to France. We did a couple of nice scenes with all the guys together so that was brilliant to finish on. I emerged from below deck to find a bouquet of flowers and a bottle of champagne, which was lovely. I'm sad to leave the show; it's been a lovely family to be a part of."
Henshawe's funeral was so sad. Have you seen you watched it yet?
"I was actually hanging out on set during filming for it, which was quite bizarre! Often on set, I'd mess about by appearing out of a box or jumping out of a sack, and I was very tempted just to suddenly appear over the rise as they shouted: "Cut" to see what would happen. But the cast were in a sombre mood, which can often happen around filming scenes like this. As I watched them, they were all so devoted to the scene, that I thought I better not do that!"
How did you first find out about Henshawe's exit storyline?
"Debbie Horsfield and Executive Producer Karen Thrussell took me for lunch in a lovely restaurant in London and broke the news in the nicest possible way over a chilled glass of wine. The other option, they were very frank, was that if Henshawe stayed on it, it'd be a bit-part story given the way that the narrative of the original stories goes."
Did you take any mementoes from set?
"I didn't – I probably should have taken a tricorn but I'm too honest! At the wrap party, Winston Graham's son Andrew Graham [a consultant on Poldark] gave me a bottle of champagne and a card saying: 'On behalf of Winston, thanks for bringing the character to life.' That was very special, I'll keep that card."
Fans are going to miss Henshawe because he was a genuinely lovely character…
"When people stop me in the street, they usually just say: 'Thanks for being so nice!' It's a lovely thing to hear. I'm certainly grateful to Debbie for writing Ross and Henshawe's relationship up from what it is in the books. Aidan Turner, who plays Ross, and I get on really well and I think Debbie saw that. All the scenes with Aidan and Tristan Sturrock, who plays Zacky Martin, will be my abiding memories – the guys hanging out talking about mining!"
What's next for you?
"I've already filmed a couple of episodes for the next series of ITV drama Doc Martin, and I've been lucky as I signed with an American manager last year and been going up for a lot of things over there. I've just finished filming in Belgium with Colin Firth for the movie Kursk, which will come out in 2018. It's based on the real story of the loss of the Russian submarine and the international co-ordinated response to try to save it. I've gone from the Cornish ship economy to working for the British navy so it's not been too dissimilar!"
Get the latest updates, reviews and unmissable series to watch and more!
Thank you for signing up to Whattowatch. You will receive a verification email shortly.
There was a problem. Please refresh the page and try again.