Father Ted actor Frank Kelly dies, aged 77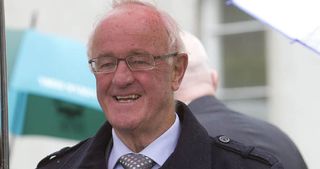 (Image credit: PA WIRE)
The actor Frank Kelly, best known for playing Father Jack Hackett in the hit C4 comedy Father Ted, has died aged 77.
His death comes exactly 18 years after the death of Dermot Morgan, his co-star in the acclaimed comedy series, who died of a heart attack on 28 February 1998.
The much-loved Irish actor enjoyed a long and successful career. One of his earliest, uncredited, roles was in 1969 movie The Italian Job, escorting Michael Caine's character from prison in the opening sequence.
He went on to enjoy huge acclaim in TV, radio, theatre, music and screenwriting. But it was in 1995 that he became a household name outside his native Ireland when he appeared in Father Ted as hard-drinking Father Jack. An older priest, Father Jack often had the devil in him. He had 'catchwords' rather than 'phrases'; "feck!", "arse!", "drink!" and "girls!" were his favourites.
http://www.youtube.com/watch?v=ptd_h0dF7NE
In 2010, Frank joined ITV1 soap Emmerdale, playing the role of Dermot, Declan Macey's father. But he left the after just five months of filming, because he missed his family in Ireland too much.
Tributes to the star are already coming in. Father Ted writer Graham Linehan has posted on Twitter:
"Just hearing from various sources that Frank Kelly has passed away. Terribly sad news. Thanks for everything, Frank."
David Morrissey, meanwhile, Frank's co-star in Stephen Frears' 2003 political drama The Deal, has also expressed his feelings. 'Sad news about Frank Kelly. I know Father Ted was the thing everyone knew him for. I worked with him on The Deal and he was such a great guy.'
The actor revealed last October that he had Parkinson's disease and he had previously had bowel cancer. Speaking about the Parkinson's diagnosis, he said: "I've been working as an actor for over 50 years, and a shaky hand certainly won't stop me.
"I'm quietly confident that I've had this for years and years. If you are watching what you are doing, you can control it."
He is survived by Bairbre, his wife of 51 years, and also leaves behind seven children and 17 grandchildren.
Get the latest updates, reviews and unmissable series to watch and more!
Thank you for signing up to Whattowatch. You will receive a verification email shortly.
There was a problem. Please refresh the page and try again.