Game of Thrones star John Bradley reveals fans will be 'surprised and double-crossed' by season 5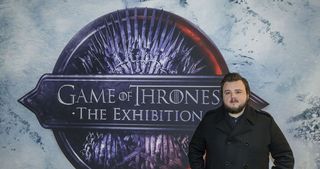 (Image credit: chrislobina.co.uk)
Game of Thrones star John Bradley, who plays Samwell Tarly, was the first of the cast to spill a few secrets about the new series, which starts on Sky Atlantic on April 13.
"The quandary going into season five is we know what people like, we know what they expect, so we know we're going to have to keep those bits but find ways of surprising them still," Sam told What's on TV at the launch of the new Game Of Thrones exhibition at Sky Backstage at London's O2.
"After watching 40 hours of something, they start to think they know the formula a bit - or they start to think they know the formula a bit - so we have got to find new and exciting ways of both keeping it familiar and double-crossing them. And I think we've managed to do that."
"Sam finished season four on a relative high, not only gaining all this responsibility, but also forming a more intimate relationship with Gilly."
John added: "Just as he's become a slightly bigger fish in the pond of Castle Black, he's got a whole new range of people to be intimidated by..."
The Game of Thrones exhibition at London's O2 features more than 70 props and costumes from the fourth and fifth seasons as well as interactive elements.
A breath of flames from the dragon Drogon will engulf those fans foolish enough to stand in its way - a grisly death that can be captured on film for posterity - while others may prefer the experience of being 'turned' by a White Walker, face frosted and eyes turned blue.
A 4D 'ascend the wall' virtual reality experience allows visitors to follow in the footsteps of Jon Snow and the Night's Watch and ride the Castle Black winch elevator to the top of the 700ft ice wall, before being attacked by wildlings.
Other exhibits include gowns worn by Missandei and Daenerys Targaryen, a Meereenese mask and the nails and hammer used to crucify the Masters of Meereen. Eddard Stark's sword Ice is on display, as are Arya Stark's Needle and Jorah Mormont's blade and its peacock feather-decorated sheath.
Get the latest updates, reviews and unmissable series to watch and more!
Thank you for signing up to Whattowatch. You will receive a verification email shortly.
There was a problem. Please refresh the page and try again.