Game of Thrones' stunt coordinator: 'I want films to reference our TV show and try to beat it!'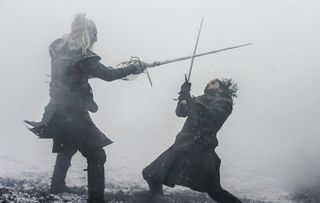 As Game of Thrones promises bigger and bloodier battles in the new seventh season, we go behind the scenes with head stunt coordinator Rowley Irlam…
As Game of Thrones (opens in new tab) promises bigger and bloodier battles in the current seventh season, we go behind the scenes with head stunt co-ordinator Rowley Irlam to learn the secrets of the incredible stunts…
Can we expect bigger-scale stunts this season? "Game of Thrones has been ramping from year to year, and if you thought season six was big, seven is even bigger and eight is going to be phenomenally huge.
"We're spending more money and time each year, and at one point this season, we had 110 stunt performers performing in three different countries. It's epic!"
Rowley Irlam (Rob Latour/Variety/REX/Shutterstock)
How can you top last season's brutal Battle of the Bastards? "My background is in horses and swords, so when I was given the opportunity to design and run this – along with Miguel Sapochnik the director and the VFX [visual effects] team – I wanted to set such a high standard that films would be referencing our TV show and trying to beat it.
"The idea was to create real-life action in front of the camera, leaving gaps for CGI so we wouldn't hurt people or horses. So all the shots where horses go nose first into the ground are CGI, but they're surrounded by real-life action, so hopefully you don't see the join. We didn't just turn up with a camera and start fighting; a lot of work went into designing that sequence."
Is that the biggest stunt you've co-ordinated for Game of Thrones? "No, there have been a few really big ones. The zombie attack at Hardhome in season five was huge, but a scene in Daznak's Pit, also in series season, was one of the trickiest. We set fire to 20 people in one day with a 45ft flamethrower. We had to be on our A game that day!"
Will there be more fiery attacks from Daenerys's dragons? "The only thing I can tell you is winter has come, and because it's got colder in Westeros, our stunt department has tried to warm things up a bit…"
Which cast members are naturals when it comes to fight scenes? "Many of our cast members have been with us since the beginning, so they've really built in experience. But the standout stars would be Kit Harington [Jon Snow], Nikolaj Coster-Waldau [Jaime Lannister] and Kristofer Hivju [Tormund Giantsbane].
"These guys pretty much do all of their own fights and we only use stunt doubles for sequences in which they could be seriously harmed."
Have you had many injuries? "We've had bruises, sprained ankles and someone might get trodden on by a horse now and then, but it's unavoidable when you're working with 70 horses and 700 extras!"
Is no stunt impossible on Game of Thrones? "The job of the stunt team is to make everything possible. Essentially we fight, ride horses and set fire to people, but our biggest duty to the show is to problem-solve, and when something is written in the script, we like to deliver it."
Game of Thrones screens on Sky Atlantic on Monday at 2am and 9pm
Get the latest updates, reviews and unmissable series to watch and more!
Senior Writer for TV Times, TV & Satellite Week, What's On TV and whattowatch.com
Rebecca has more than 20 years' experience in journalism and is now writing about all things telly-related for TV Times, TV&Satellite Week, What's On TV and whattowatch.com (opens in new tab).
She's interviewed all sorts of big-name stars, including Al Pacino, Ewan McGregor, Tom Hardy, Winona Ryder, Benedict Cumberbatch and more. She's also been known to step in front of the camera, dressing up as a 1920s flapper to star in ITV's Mr Selfridge and co-hosting ITV News at Ten with Mark Austin – all in the line of duty!
When she's not quizzing actors, directors and producers, you'll find her bingeing US dramas and anything horror/sci-fi/zombie-themed. But her greatest love will always be Game of Thrones… just don't mention the ending!
Thank you for signing up to Whattowatch. You will receive a verification email shortly.
There was a problem. Please refresh the page and try again.