Ghost Story (1981) | Blu-ray release - Four veteran Hollywood legends unite for a must-see spookfest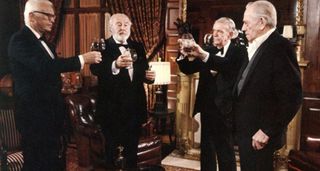 It was one of the most talked about horror films of the early 1980s, thanks, in no small part, for the wealth of Hollywood royalty nearing the end of their careers starring in what was, for many of them, the first and only horror film of their working lives. And now, for the first time in the UK, Ghost Story arrives on Blu-ray and DVD from Second Sight.
Based on the 1979 Peter Straub bestseller (which Stephen King rated as one of the finest examples of the craft of the late 20th century) 1981's Ghost Story follows four elderly friends who while away the time in their dotage by telling each other spooky stories as part of their Chowder Society group. But when one of them meets an untimely end and the rest are afflicted with troubling nightmares, it appears as if past crimes could be finally catching up with them...
Veteran screen legends Fred Astaire, Melvyn Douglas, Douglas Fairbanks Jr and John Houseman make up the quartet in this spookfest, which would become a fitting epitaph for their acting talents. Watch out for Alice Krige (aka the Borg Queen from Star Trek) as the mysterious woman who has a strange effect on the four friends
The Second Sight release also includes a wealth of bonus features, including an audio commentary with director John Irvin, and featurettes on author Peter Straub, actress Alice Krige and visual effects wizard Albert Whitlock, plus TV and radio spots and a photo gallery.
Thank you for signing up to Whattowatch. You will receive a verification email shortly.
There was a problem. Please refresh the page and try again.