Gogglebox's Georgia McCormick: 'When I first watched myself I had to get a bit drunk!'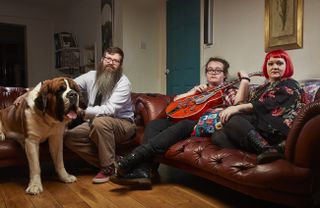 After joining Channel 4's Gogglebox (opens in new tab) this year Georgia McCormick, her husband Scott and 14 year-old Isaac, who has Tourette's, are becoming firm favourites with the viewers. We caught up with Georgia and her family to find out how they were adapting to life on the show…
How are you enjoying being on Gogglebox?
Georgia: "It's great actually, it's good fun, but it's been a bit of a whirlwind! It's gone really quickly and we're really enjoying it. It feels like we've been on it two minutes although we feel quite comfortable with it already. It's a bit bonkers, a bit crazy... but fun!"
How did you get involved with the show?
Georgia: "We did watch it, but didn't even consider that we might be one day sitting on it! We were contacted by the Tourette's community, through a friend of ours, who said 'I think your family would be good on Gogglebox, how do you feel about giving it a go?' We were like, 'What?!' So we had a chat about it as a family, particularly with Isaac to make sure it was something he'd be comfortable with."
Were you worried how it would affect him?
Georgia: "Yes, absolutely. It was literally up to Isaac whether or not we would do the show. It's putting him out there with his condition and we wanted to know he'd be comfortable with that. Me and Scott took a back seat and let Isaac have a good think about it. We discussed the pros and cons, but he did want to do it."
Do people recognise you now and what's the response been when you're out and about?
Georgia: "They do recognise us already and that's the bit that takes getting used to. It's nice but weird."
Isaac: "It's really strange, but people just walk up to you and say, 'Hey I've seen you before!' It's pretty strange, but it's fine. People are nice."
Scott: "Most people say nothing ever happens in Peterborough!"
So which Gogglebox families do you like?
Georgia: "I pretty much like them all, but I really like The Malones as I find them quite funny. They're just down to earth."
Isaac: "I quite like Steph and Dom, they're funny."
Has the show changed your viewing habits?
Georgia: "We wouldn't have watched so many dramas before, but I'm completely hooked on Marcella now. It's quite scary so I have to watch it from behind a cushion! We also loved Line of Duty as it really got you thinking. We do get quite a wide range of shows to watch which is good."
Scott: "I must say that show, It's Not Rocket Science, oh my God! How badly presented can a show be?! Especially when you know the industry like the back of your hand. When they start throwing things around like liquid nitrogen, you think, 'That's not going to work!' I'm an aircraft engineer by trade so I sat and complained all the way through that!"
Isaac: "I'm not one to watch TV dramas, I usually watch the regular shows like Britain's Got Talent. But I've seen a few series like Breaking Bad and Sherlock, which is really good. That's why I liked Line of Duty because it had a lot of plot twists. It was clever."
Do you watch a lot of TV anyway?
Georgia: "We do actually, we are real TV fans. We like putting our feet up and watching it. And I like a nice glass of wine while I watch. We're quite diverse people. Obviously Scott likes his engineering programmes, I like my documentaries, Isaac likes his stuff so between us it's quite a wide range."
Do the production team give you any feedback?
Scott: "They are very encouraging, but as far as feedback goes, Twitter will tell you a multitude of sins! Not just for us, but all the families in the show. It is pretty well received and people have been really nice actually."
So you don't have any regrets about taking part in the show?
Georgia: "Not at all, I think if anything, we were probably more wary than we needed to be. We were nervous because of Isaac but we've had some really good feedback and we've been pleasantly surprised."
Scott: "We said from the start, if we get any abuse over Isaac or it turns sour, we'll pull out. But it's been really well executed. So hats off to the production company, they've done a great job."
Do you think people are more aware of Tourette's now and are more accepting?
Isaac: "I think it's a good thing that there are documentaries coming out about it, but in terms of awareness I think people do know what Tourette's is but there are so many misconceptions and so many stereotypes. For example, they think that everyone with Tourette's will swear, but actually, it's only 10 per cent of people with Tourette's will swear."
Georgia: "I like the fact that you see more and more different people on TV now because that's life. Everybody is different and unique. We need so much more of it and, although we're getting better, it's not enough. We still need to see much more. The more awareness the better, really."
They've shown some more upsetting documentaries recently, are they harder to watch?
Georgia: "I think it's good that Gogglebox is showing a wide range of programmes because people like to see how the other half live, how other people feel and react. We all cry, we all laugh so I think it's quite refreshing to see that."
Isaac: "There was the Supervet, wasn't there? The nation are suckers for animals!"
Would you like to stay on the show for a long time?
Scott: "We take it week by week and we don't know our time of tenure, put it that way. But if the public likes us, we'll stay on it. We get on really well with the producer and the crew that come in to film us. They are absolutely outstanding – really intelligent, really good fun. You can have a good, insightful conversation with them."
So you'd recommend it?
Scott: "Oh definitely. It's a really good experience and we do feel privileged to be a part of it."
Georgia: "It sounds really cheesy, but we really love spending time with the crew. They're such a good bunch. We really look forward to it."
Does seeing yourself on TV make you more self-conscious?
Scott: "You've no idea! I'm 22 years in the Air Force, I have been smart and presentable, but I couldn't give a stuff. My ambition is to do an episode in a kilt, like the scene from Basic Instinct!"
Georgia: "When I first watched myself on TV I had to get a bit drunk! I said to the reverend, when do you stop feeling sick seeing yourself on TV? She said, after a couple of series! I was like, NO! I don't know if I can bear watching myself. But when you're being filmed, you totally forget about the cameras. We don't how long it'll last, whether it's five minutes or two years, but we're just the type of people who take it as it comes. We enjoy it and what a great story to tell our families in years to come."
Gogglebox continues on Channel 4 on Friday
Get the What to Watch Newsletter
The latest updates, reviews and unmissable series to watch and more!
Feature writer for TV Times, What's On TV, TV & Satellite Week and whattowatch.com
Sean has been writing about all things telly for over 10 years and in that time he's been lucky enough to interview stars like Ian McKellen, Tom Hardy and Kate Winslet. His favourite shows are The Great British Bake-Off, People Just Do Nothing and Succession and in his spare time he enjoys drinking tea, doing crosswords and watching football.