Downton Abbey's Jessica Brown Findlay talks about her racy new role as a prostitute in ITV's Harlots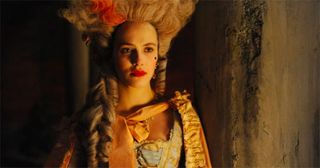 The Downton Abbey star is back in a corset - but not for long as she plays a prostitute living in 18th century London when one in five women worked in the sex trade.....
Downton Abbey star, Jessica Brown Findlay, will be playing the lead in a new period drama, yet Harlots couldn't be more different to the hit show that made her famous!
Set in a bustling London in 1763, this raunchy new eight-part series follows Charlotte Wells a high-class call girl who is determined to find happiness without losing her freedom.
Starring a fine cast that includes Samantha Morton and Lesley Manville, Jessica tells us about playing Charlotte and what life was like for women in the 1700s…
Tell us about Charlotte...
She is notorious. She's the most famous and sought after courtesan in London, everyone knows her name. She gets paid in jewels and lives what is, for many people, a sought after life but she's actually very complicated. She parades around with confidence as if she has no cares in the world, but underneath she has a lot of barriers. She doesn't let people in and is untrusting when it comes to love. She's flawed, frustrating at times but also funny, quick-witted and intelligent – she's brilliant!
What is she looking for?
There's something in her that makes it very difficult for her to conform. She lives with a rich man named George Howard and could sign a contract with him and live a life of luxury for the rest of her life, but there's something in her that won't let her do it. You want to shake her and say "what are you doing?"
https://youtu.be/mPrHv1nMZxc
Samantha Morton plays her mum, Margaret Wells, what can you tell us about their relationship?
It's quite a fraught and complex relationship. Charlotte's mum has been a courtesan since she was a teenager and worked her way up to owning her own brothel, but she wants her daughter to have a better life than she did. They're both similar, but they're too stubborn for their own good so neither will back down, which makes it quite fraught when they're in a room together.
Do you think people will be surprised that these women were powerful and such good businesswomen?
Yes I think they will. One in five women worked in the sex trade at this time, which is an amazing statistic. I had no idea it was that high. It's incredible to think that's the only way a woman could make money, own her own property, have the rights to her own children, while being unmarried. As soon as they got married they signed away everything. It's also remarkable to think of their influence on fashions and men who were running the world. They could bend the ears of powerful men and they were utilized for that.
An eye-opener for modern audiences?…
There were lots of elements to this part of history that were incredibly liberal and interesting rules that applied to women and rules that applied to whores – harlots. They viewed the two as different.
Did you do a lot of reading about the era?
Yeah, I'm a mega geek so I like to delve into research, there's a lot that I had no idea about. London at that time, it was explosive and there were no rules, which would have been liberating, exciting and mad but also quite frightening.
This is based on real stories, have you looked any of them up?
They're sort of amalgamations of a couple of stories. Charlotte, you can tell is influenced by a couple of people, I've had a look but tried not to get too far into it because this is a fictional piece. I felt I needed to build that aspect to her character myself.
Did you enjoy getting back in a period costume?
Yeah that's great. It's really exciting to bowl into a room looking like this … creature really, like an exotic bird. She displays her riches and goes out with necklaces, rings, a broach, a necklace in her hair. It's basically like she's saying 'I'm this good!' It's very interesting and a whole new way of moving when you're in those things. You feel very sassy with the hips and your boobs up here!
How long did it take to get into costume?
I was in hair and make-up for about two and half hours this morning. It takes quite a long time. The hair is so complicated, but the costume doesn't take that long to get into – and get out of!
There's lots of sex in this, but how explicit is it?
It's definitely going out after the watershed, but it's not quite Game of Thrones!
This is a very different kind of period drama to the ones we usually see…
I don't associate this with the period drama genre at all. I've never done anything so vivid and honest. It's not sugar coated at all and it feels absolutely real and the energy of it is so brilliant. We'll do big long scenes in one take and it's so exciting. It feels sort of gangster, like the mob's families caught in the throw of this competitive, mad brilliant world.
Harlots starts on ITV Encore on Wednesday, March 29.
Get the What to Watch Newsletter
The latest updates, reviews and unmissable series to watch and more!
Feature writer for TV Times, What's On TV, TV & Satellite Week and whattowatch.com
Sean has been writing about all things telly for over 10 years and in that time he's been lucky enough to interview stars like Ian McKellen, Tom Hardy and Kate Winslet. His favourite shows are The Great British Bake-Off, People Just Do Nothing and Succession and in his spare time he enjoys drinking tea, doing crosswords and watching football.