Harry Potter star Julie Walters: I finally get the chance to travel on the Hogwarts Express!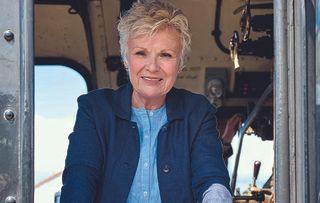 (Image credit: Joss Barratt)
Harry Potter star Julie Walters boards the real Hogwarts Express as she sets off on a magical railway adventure
As Mrs Weasley in the Harry Potter films, Julie Walters was a frequent visitor to London's Kings Cross station, where she would wave off Ron, Fred, George and Ginny at Platform 9¾ as they boarded the Hogwarts Express at the start of each new term at the School of Witchcraft and Wizardry.
And in her latest TV outing Julie finally gets the chance to travel on the iconic steam train herself!
The four-part series follows Julie as she travels along some of Britain's most picturesque coastal railways, stopping along the way to meet the locals. And in the first episode she finds herself on the footplate of the Jacobite steam train – better known to Harry Potter fans as the Hogwarts Express!
We caught up with Julie Walters to find out more about her new Channel 4 series, Coastal Railways with Julie Walters, which starts on Sunday...
TV Times: Julie, what are you getting up to in this new series?
Julie Walters: "I'm going on a journey around Britain, specifically the coastal parts of Britain, by train. Although I love holidaying in the UK, I feel as though I haven't explored it enough. It was a way of exploring the coastal communities that are built around the railway."
TVT: Are you a railway enthusiast?
JW: "I remember steam trains from when I was a small child. I can remember being on Snow Hill station in Birmingham and I have this image of all the steam and the sound and the smell as I waiting for my aunt to get off the train – and how exciting it all was!"
TVT: You're travelling along the coast - do you like the seaside?
JW: "I love British seaside resorts, no matter what the season. I just love the feel of them, because that's where I went as a child. We'd go to the coast in the summer for our family holidays. I'm a bit of a romantic, with an absolute passion for the seaside. I've often fantasized about being a coastal farmer or a smuggler – I think it's because I'm from Birmingham and we have such a land-locked existence!"
TVT: What was it like travelling on the Jacobite – best known as the Hogwarts Express in the Harry Potter films?
JW: "I was denied that experience when I was doing the films! There's the amazing crossing of Glenfinnan Viaduct, which is the one you see in the shot of the Hogwarts Express in the films. Before we set off, I went up to the footplate and had a bacon roll made with bacon cooked on a shovel over the coals in the engine. I'd heard about that happening on old steam trains, but I'd never seen it and it was a nice treat!"
TVT: Is that train journey very popular with Harry Potter fans?
JW: "Yes, and there were a lot of people dressed in costume along the way, which was lovely to see. Just being there, it did make me feel proud to have been part of the films that reinvigorated interest in this beautiful steam line."
TVT: What sort of things did you get up to when you weren't travelling by train?
JW: "I did a bit of military training with a retired major at a gorgeous country house in the Highlands where the secret service trained young men and women to be special operatives. And in Snowdonia I went on the fastest and highest zip wire in Europe. Fearless reporting! I say fearless – at one point as I was going down the zip wire and the wind started to pick up and I felt a fear set in… I thought I was going to end up unhooked!"
TVT: Have you made any documentaries before?
JW: "I have, years and years ago. I can't even remember what it was! It was something about a community centre on a housing estate in Liverpool in the 1980s. And I made Julie Walters is an Alien, where I did different jobs in the States – that was back in the 1990s."
TVT: What else have you been working on recently?
JW: "I've been working on the Mamma Mia sequel, and it's been wonderful to have the cast back together having a laugh. Between filming Coastal Railways I was making comedy-drama Country Music, alongside the talented [War and Peace actress] Jessie Buckley. If it doesn't make her a massive star, I'll be stunned! Before that I was filming Mary Poppins Returns, playing housemaid Ellen. And of course there's, Paddington 2, which is just coming out – so it's been a very busy year. It's just the way it happened, but when Mamma Mia finishes I'll be able to have a lie down!"
Britain's Coastal Railways with Julie Walters premieres on Channel 4 on Sunday 26 November at 8pm
Ian writes about TV and film for TV Times, What's on TV and TV & Satellite Week magazines. He co-hosts the weekly TV streaming podcast, Bingewatch.
Get the latest updates, reviews and unmissable series to watch and more!
Thank you for signing up to Whattowatch. You will receive a verification email shortly.
There was a problem. Please refresh the page and try again.