Harry Potter creator to write for Doctor Who? Is JK Rowling coming to the TARDIS?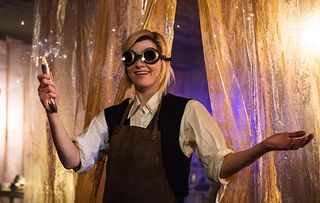 (Image credit: BBC)
Chris Chibnall would love 'genius' JK Rowling to be involved with Doctor Who
Doctor Who boss Chris Chibnall has revealed he'd love Harry Potter writer JK Rowling to add her creative "genius" to Jodie Whittaker's Time Lord.
It's not as far-fetched as it sounds as the world famous Harry Potter author was apparently in talks before with the people behind Doctor Who to potentially be involved with an episode for David Tennant's Time Lord.
Now, Radio Times reports that Chris Chibnall is keen for JK Rowling to be involved with the show.
Speaking at New York Comic Con, Chris said: "If JK Rowling wants to have anything to do with Doctor Who, please give her my phone number.
"I think she is one of our greatest writers. I think Harry Potter is an absolute transcendent piece of work and continues to be with the theatre play and with Fantastic Beasts. JK Rowling is a genius and if she ever even wants to see what we do on Doctor Who, you tell her from me, the doors are open."
There's already been plenty of actors who've appeared in the Harry Potter movies and Doctor Who. To be name just a few… former Doctor David Tennant played Barty Crouch Junior in the Goblet of Fire, another Time Lord, John Hurt played wand-maker Mr Ollivander, and Zoe Wanamaker turned up as Lady Cassandra in Doctor Who and Madame Hooch in Harry Potter.
Meanwhile, Sunday's third episode of Doctor Who sees the TARDIS land in 1955 Alabama, on the eve of seamstress Rosa Parks' arrest for refusing to give up her seat on the bus for a white passenger as city laws required.
Doctor Who continues on Sunday at 6.55pm on BBC1.
JK Rowling pic: Mark Von Holden/Variety/REX/Shutterstock
Get the latest updates, reviews and unmissable series to watch and more!
Thank you for signing up to Whattowatch. You will receive a verification email shortly.
There was a problem. Please refresh the page and try again.