Hawks and Sparrows & Pigsty | Blu-ray release – a double-bill of Pier Paolo Pasolini's Italian masterpieces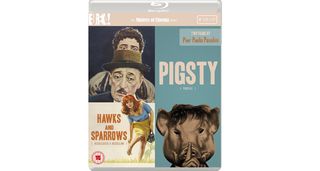 In 2012, Eureka! released onto DVD new high-definition transfers of two films from Italian director Pier Paolo Pasolini, Hawks and Sparrows (Uccellacci e uccellini) and Pigsty (Porcile) as part of their Masters of Cinema collection. These have now been given a Blu-ray makeover for a limited edition double-bill release (just 1500 units), due out from Monday 22 February 2016.
In the 1966 satire, Hawks and Sparrows, veteran comic Toto and Pasolini's muse Ninetto Davoli (in his first screen role) appear as characters in two different time frames. One finds them playing father and son who encounter a collection of characters, and a talking crow, while walking the outskirts of Rome. The other, set in the 13th-century, finds them as monks tasked by St Francis of Assisi to teach hawks and sparrows to love each other. This road movie (by foot) is very much 'of its era', but shows Pasolini questioning Italy's identity in the 1960s, a period when Church and communism clashed.
1969's Pigsty challenges what makes a political film and, along with the director's controversial Salo (1975), contains a visual language that is pure Pasolini. As in Hawks and Sparrows, two stories play out – one set in a distant past, the other in modern Germany, but both are linked to an overall theme: that all societies end up consuming their children. Together, these two tales become a cinematic political poem about anarchy and rebellion. This is Pasolini at his height.
Now, the experimental nature of Hawks and Sparrows and Pigsty might be cause for some head scratching, but they are both thought-provoking and breathtakingly visual, while the collectors booklet that's included really goes a long way to help you get your into Pasolini's mindset.
Get the latest updates, reviews and unmissable series to watch and more!
Thank you for signing up to Whattowatch. You will receive a verification email shortly.
There was a problem. Please refresh the page and try again.