Haydn Gwynne: 'Sheridan Smith is incredible in The C Word'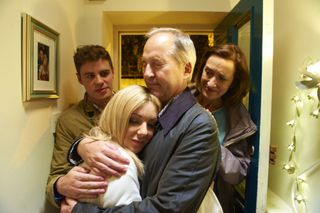 (Image credit: BBC/Stuart Wood)
Michael Maloney (Coronation Street, Utopia) and Haydn Gwynne (Peak Practice, Drop The Dead Donkey) talk to What's on TV about their roles as Ian and Jane McFarland, the real-life parents to courageous cancer spokesperson, Lisa Lynch, in The C Word with Sheridan Smith…
Did you meet with Jane and Ian, who you portray in BBC's feature length drama, The C Word?
Michael: "They volunteered to come down to the set as they wanted to give their blessing to the whole project, which was incredibly generous of them. It's a testament to how they functioned as a family. They were inclusive in the face of overwhelming news on a regular basis. They still tried to function on a jokey level, even though it's clear, there's no joke involved."
Haydn: "While I didn't want to pry, I was really happy to meet with them, as it was something I asked when I had my first meeting with the producer of The C Word. Jane loaned me her wedding hats for our two wedding scenes! We'd spoken on the phone a few times, and joked about it. And then when she visited the set she brought her hats. The costume designer was thrilled because they both worked perfectly. It was very touching."
Were they involved in the script, which was based on Lisa's blog Alright Tit and her book The C Word?
Haydn: "I know they'd seen the script while we were filming – it was a very open process. I just can't imagine what it will be like for them to watch it. It must be so weird and bizarre to have this parallel to their real experiences. They were certainly thrilled it was being made, because it was what Lisa wanted."
Lisa Lynch's story is both heartbreaking and hilarious. Has this been a difficult job in some ways?
Haydn: "It has sometimes. It's a mixture."
Michael: "There's something universal about impending loss, fear, bereavement and love. It's the human condition raw and amplified."
Haydn: "In the middle of this appalling luck [Lisa died in 2013, five years after her initial breast cancer diagnosis] the family remained dedicated to each other and still incredibly close."
Lisa was wonderfully open and frank about her condition and treatment. Is it an educational drama in ways?
Haydn: "It is quite educational. I've certainly learned quite a bit about cancer and cancer treatments."
Michael: "I'm sure it's what Lisa Lynch would have wanted, to share her journey and experiences with other people."
How has it been working with Sheridan Smith, who plays Lisa?
Haydn: "She's incredible. Sheridan was Lisa's choice – they were in touch when The C Word was first in development. She was also the person the family wanted to play Lisa.
"It's a really strong love story. Between Lisa and her husband Pete, played by Paul Nicholls. It's also family at its best."
Your paths must have crossed over the years. Have you ever worked on anything together before?
[Both laugh]
Michael: "There was a time when we were often wanted to play boyfriend and girlfriend, but as soon as Haydn stands up, they realise I'm much shorter than her!"
Haydn: "It happened about three times! We ended up playing partners eventually – but on the radio!"
BBC's one-off drama The C Word stars Sheridan Smith as real-life blogger, Lisa Lynch, who inspired millions with her site Alright Tit and book The C Word. It screens on BBC1, Sunday, May 3 at 8.30pm on BBC1
Read our interview with Sheridan here
Get the latest updates, reviews and unmissable series to watch and more!
Thank you for signing up to Whattowatch. You will receive a verification email shortly.
There was a problem. Please refresh the page and try again.