80s flashback! He-Man and She-Ra back to battle the baddies soon!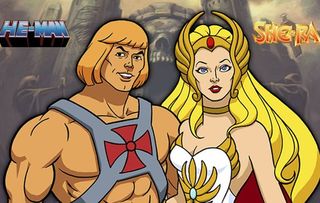 "By the power of Grayskull!" We can't wait to see cartoon super siblings He-Man and She-Ra back in a new TV series and big screen movie!
With so many TV revivals and reboots around at the moment, it's feeling a lot like the 80s and 90s all over again!
So if you were a child of those decades, you'll be excited by the news He-Man and his twin sister She-Ra are one step closer to returning to the small screen and big screen respectively.
The development of a big screen version of He-Man And The Masters Of The Universe has been on/off for years, but finally seems to be going ahead with a possible release date next year. Everyone involved in the film is keen to get it right since the last attempt, 1987's Masters Of The Universe starring Dolph Lundgren and a pre-Friends Courteney Cox, bombed at the box office despite costing millions to make.
https://youtu.be/H2GSQXX3UoA
But first up will be the newly titled animated series She-Ra And The Princesses Of Power which will premiere on Netflix later this year and has been produced by DreamWorks Animation, the company behind such hit films as Shrek, Kung Fu Panda and How To Train Your Dragon.
"I was always looking for the female characters in sci-fi and fantasy who were more than just the girlfriend," executive producer Noelle Stevenson told Entertainment Weekly. "I love the female characters in She–Ra. There isn't another show quite like it."
https://youtu.be/3yfYetkMLPM
The original He-Man And The Masters Of The Universe and She-Ra Princess Of Power series were a big hit during the early 80s and a range of collectible action figures and other merchandise was launched to tie-in with the shows. But the super-strong siblings, who battle against the villains Skeletor and Hordak on the planets of Eternia and Etheria respectively, have never really gone to cartoon heaven having appeared in comic book form and a He-Man TV reboot in 2002 which ran for two seasons on Cartoon Network's Toonami.
He-Man and She-Ra will both premiere at a later date to be announced
Get the latest updates, reviews and unmissable series to watch and more!
Thank you for signing up to Whattowatch. You will receive a verification email shortly.
There was a problem. Please refresh the page and try again.