House of Mortal Sin (1976) | Blu-ray release – This British exploitation slasher still shocks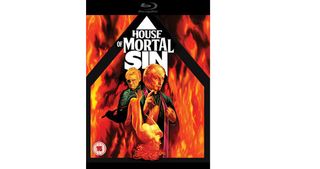 When young Jenny (Susan Penhaligon) discovers that her confession about having an abortion has been taped by local priest, Father Meldrum (Anthony Sharp), her boyfriend Terry confronts the priest, but ends up in hospital suffering a serious life-threatening injury… But as Jenny tries to convince her sister Vanessa (Stephanie Beacham) and young priest Father Cutler (Norman Eshley) to believe her that Father Meldrum is responsible, the deranged priest continues to punish his parishioners for their moral transgressions. And his weapons of choice: rosary beads and poisoned communion wafers.
This 1976 shocker comes from British exploitation film-maker Pete Walker and it's one of his best, being much more than just your average slasher thanks to a scathing script that doesn't hold back on attacking the Catholic church and the hypocrisy of religion (of all faiths). Anthony Sharp certainly revels in his role of the murderous priest, but it's Sheila Keith who steals the show as the one-eyed, stone-faced housekeeper, Miss Brabazon. Her maltreatment of Meldrum's elderly and infirm wife (Hilda Barry) is a truly terrifying creation.
House of Mortal Sin is available from OEG Classic Movies in the UK on Blu-ray and DVD
Get the latest updates, reviews and unmissable series to watch and more!
Thank you for signing up to Whattowatch. You will receive a verification email shortly.
There was a problem. Please refresh the page and try again.