Humans' Katherine Parkinson: 'If I could only do one job it would be comedy'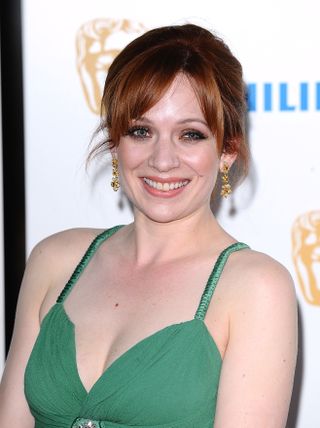 (Image credit: PA Archive/Press Association Images)
Katherine Parkinson has revealed that, if push came to shove and she could only do one job for the rest of her life, she'd choose comedy over drama every time.
Despite her success on mainstream dramas, such as The Honourable Woman and In the Club, Katherine remains true to her comedy roots on The IT Crowd.
"If I was told I could only ever do either drama or comedy, I'm afraid I would go for comedy," said Katherine. "But that's just because I like to laugh."
She added: "I think every job requires different skills. Sometimes to the viewer it'll just look like you're doing a different accent or something, but it's more subtle than that. It's a different tone, a different mood, a different genre. I think it's about knowing the show you're in, and what is required."
Katherine's latest role sees her playing working mum Laura Hawkins in C4's sci-fi thriller Humans. In Sunday's episode viewers will see Laura become convinced the family's new synthetic robot, Anita, has developed a mind of her own.
Katherine said: "Laura and Anita's dynamic reminds me of The Hand that Rocks the Cradle. I love that psychological thriller element to Humans!
The cuckoo in the nest element is brilliant – the feeling of being usurped by this perfect synthetic being who's good at all the stuff she's not.
"Laura finds Anita (Gemma Chan) frightening because its difficult to know what's going on in [her mind]. Laura's suspicious Anita's more than a synthetic because she says and does things that feel too human. Laura feels threatened and vulnerable. Having a synthetic isn't as straightforward as having a machine to do your chores!"
She also revealed that Laura isn't all she seems either: "Laura's got a complicated past that she hasn't revealed to husband Joe (Tom Goodman-Hill), even though she's been with him for a long time. She's troubled and unable to come clean about it."
Get the latest updates, reviews and unmissable series to watch and more!
Thank you for signing up to Whattowatch. You will receive a verification email shortly.
There was a problem. Please refresh the page and try again.