'I walk on to Wild Thing with a couple of men in tiger suits!' says Let's Play Darts contestant Kate Humble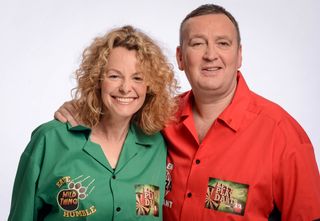 (Image credit: BBC/Sport Relief/Kieron McCarron)
Former Countryfile and Springwatch presenter Kate Humble will be one of the celebrities stepping up to the oche in Let's Play Darts for Sports Relief on Sunday (BBC2).
We caught up with her to talk about how she almost killed her dog while practising and her terrible beer-related secret…
Are you a sporty kind of person usually?

"Not really, although I used to play netball when I was little and I was quite a good goal attack. I'm rubbish at darts though. I only found out that I was going to be on the show a week before the first round, so I hadn't practised much and when I did practise it just made me feel despondent. I thought, 'I'll just wing it on the day'."
The other celebrities taking part include, former England rugby captain Mike Tindall, football pundit Robbie Savage, comedian Greg Davies and comedian Tim Vine, but who are you most worried about?
"Tim and Mike are like darts swots. Tim Vine plays darts every day and he's absolutely determined to win after getting beaten by Lee Mack in the final last year. Mike's also a bit of a natural. I turn up in the morning and they're already practising before I've made myself a cup of tea!"
Tea? They drink beer at the darts don't they?
"Yes they do, but – dare I say it – I don't like beer."
What was it like playing in front of a live audience?
"The audience makes so much difference! They're dressed up in extraordinary costumes, waving masks and shouting things. I was at the oche about to throw and somebody shouted from the crowd: 'Remember you're a humble!' to the tune of the Wombles song. I lost it because it was very funny. It's lovely having them there, but also distracting. That's my excuse anyway. It's theatre really."
What's your walk-on music?
"Wild Thing by The Troggs. Plus I've got a couple of guys in tiger suits walking on with me - I don't think anyone else is going to beat that!"
Every celebrity is paired with a famous darts player, what was it like playing with Glen Durrant?
"He was brilliant and I was rubbish, so it's quite generous of him to put up with me! Suddenly you are burdened with this massive responsibility because you're paired with a lovely person and you don't want to bash their sporting integrity."
So how did you prepare for the first round?
"As I said I have zero darts experience. I used to work in a pub in Oxford as a teenager and there was a darts board, but it was the sort of pub where people threw glasses at each other more than played darts…"
Did you manage to get much practising in at home?
"I was so busy, but I tried to get up and throw some darts early in the morning and hope the dogs didn't come in, because otherwise I'd have ended up kebabing them. Once my husband came down and asked if I wanted him to give me a game, but after watching me for a while he said I'd probably be better off on my own. His expectations for me on the show aren't very high!"
Get the latest updates, reviews and unmissable series to watch and more!
Thank you for signing up to Whattowatch. You will receive a verification email shortly.
There was a problem. Please refresh the page and try again.