"They call me Frenchie!" says Little Big Shots host Dawn French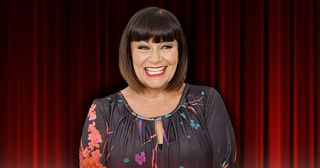 Get ready to meet some of the world's most talented children in this brand new series...
Dawn French will be helping a host of extraordinary kids show off their special skills in brand new ITV series Little Big Shots on ITV this Wednesday night, but this is a talent show like no other! We caught up with The Vicar of Dibley star to find out more...
What can you tell us about you show?
"It's a simple, straight-forward, innocent and delightful show, where kids with a special talent from the age of 4 to 13 get the chance to show us what they do. Most of the kids are from Britain, but we have others from Kazakhstan, the Phillipines, Norway and loads of other places. Some of them are kids that have been internet sensations, others have won competitions. We have a few dancers and singers, but there's so much variety - we have a four year-old shepherd later in the series."
How is it different from shows like Britain's Got Talent?
"The fantastic part of it is that it's not a competition, there are no prizes, no judges, no prizes so it's very fair and very joyful."
Is that what drew you to the show?
"No one likes it when kids get upset and there's none of that on the series, because nobody has to be told 'that's not good' or 'you're not good enough – please leave now' which is the way with most competitions. If their not happy with the way they've performed, they can have another go!"
It sounds like they have a great time on the show...
"They're very well looked after by the crew who have met them ages before, they get to know certain members of the crew who stick with them all the way through. They are shown the studio, they have their own place to rehearse backstage, mum and dad come with them. They get a bit of a jolly to come up to London, if they're not from London which most of them aren't. Most of them go to Harry Potter world and the London Eye, have a lovely time and then come along and do their thing. One of them even called me 'Frenchie'!"
Do you think you could have gone on Little Big Shots when you were a youngster?
"The special skill I had at that age was the ability to move my eyes independently, although I don't know if that would have got me on the show. It was a little frightening, but I think my parents thought I was possessed at the time. Oh god – please don't use that as the headline! No I didn't have talent like these kids. I wished I could be a ballerina, or I wish I could have been a dancer, or an air hostess – that was the talent I wanted the most at their age!"
One of the golden rules of showbiz is not working with kids, were you nervous before the first episode?
"Much as I can admire the talents of stage school kids, that isn't really what the show was about so I was delighted to hear we would be finding children elsewhere. None of them are brattish at all – there wasn't a single one. To be honest, I don't think it takes any bravery to work with kids, this is my idea of heaven! For that half an hour when we're chatting on the sofa I'm their pal. I'm in their dressing up box along with them. It's like being in your bedroom with your mates round, except I'm in nearly 60 and they're six years old. But it gives me a chance to engage in one of my favourite pastimes, which is talking to kids! Why wouldn't you want to do that, it's the best fun."
The show was a big hit in America last year, did you watch it?
"I watched a few episodes and was a big fan. Ellen Degeneres hosts it and the way she was with the kids was fantastic. She was just very non patronising and interested in what they were up to, which is one of the things that made it such a success."
Do you get a chance to meet the children before the show?
"We thought about it but then realised that kids can't fake meeting you again, so we wanted the first reaction. On most chat shows the host comes to your dressing room to see you and you say hello, then you have to do it all over again 10 mins later for the chat show, but we didn't think that would work for the children on Little Big Shots."
Would you like to do another series?
"If people like it than I'd love to do another one. I hope we can do some more because there are loads more kids out there. Even talking about it amongst my own group of chums, people are telling me about other children they know who do interesting things. I think 'Oh that's different!'"
What else are you up to at the moment?
"I'm busy writing a book which will be coming out on my birthday. I'm 60 this year and rather than getting presents I'm going to give a present! So I'm in Cornwall, head down and writing…"
Little Big Shots, starts Wednesday 1 March at 8pm on ITV
Get the latest updates, reviews and unmissable series to watch and more!
Thank you for signing up to Whattowatch. You will receive a verification email shortly.
There was a problem. Please refresh the page and try again.