Luther star Idris Elba sparks excitement as he appears to respond to James Bond rumours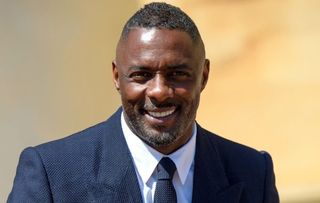 (Image credit: REX/Shutterstock)
Fans are convinced that the star is the next James Bond after this cryptic post.
Idris Elba, star of hit BBC series Luther, has sent fans wild after appearing to suggest that he is set to be the next James Bond in a cryptic social media post.
The popular actor has long been at the centre of rumours over who will be next to play the legendary character, following current Bond Daniel Craig.
And now, he has waded in on the rumours, with the exciting Twitter message.
Idris, 43, shared an edited picture of himself on social media, alongside the caption, 'my name's Elba, Idris Elba.' - appearing to copy the iconic Bond catchphrase, 'The name's Bond, James Bond'.
Fans were sent wild by the post, commenting to share their excitement at the possibility that he could be the next Bond.
One of his follower's wrote, 'If you're the next Bond, it will be the first Bond film I ever see 😁😍', while another also said, 'Oh i hope this is true #JamesBond'.
A third fan also commented, 'Does this... mean what I think it means.....'.
Fellow actor Sanjeev Bhaskar replied to the post too, telling Idris, 'Yeah I got your number mate'.
For years now, rumours have flown that Idris could be the next man to play James Bond. However, the 45-year-old, recently commenting on the speculation, has confessed that he dislikes the focus on his race when it comes to discussions about his chances.
He told the New York Post, "It's interesting that the James Bond thing continues to go. I think it's more about, we just want to have a black guy play James Bond rather than Idris Elba, the actor, play James Bond. That's the part that I'm like, 'Ugh, come on'."
During the interview, he also admitted that there's one key difference between him and the character of James Bond - the way they like their martinis made.
Idris said, "I like them stirred. Not shaken. Jesus Christ, did I just say that out loud?"
The news however comes after the current James Bond, Daniel Craig, revealed that he has plans to bow out of the series sooner rather than later, after recently finishing his fifth film as the suave secret service agent.
He was quoted as saying, "I just want to go out on a high note, and I can't wait,"
But never fear - if Idris doesn't end up playing the role of Bond, fans can catch him as troubled detective John Luther in the BBC programme later this year.
It's thought that the four-episode series will air in late 2018, meaning fans don't have long to wait.
Get the latest updates, reviews and unmissable series to watch and more!
Thank you for signing up to Whattowatch. You will receive a verification email shortly.
There was a problem. Please refresh the page and try again.