Jack Whitehall finds a 'scumbag' ancestor in Who Do You Think You Are? tonight!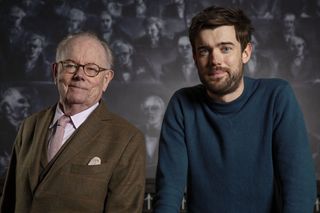 (Image credit: BBC/Wall to Wall Media Ltd/Stephen Perry)
Jack Whitehall reveals how he and his dad Michael discovered a 'villain' in their family tree as they take part in Who Do You Think You Are?
Comedian and actor Jack Whitehall and his deadpan dad, former theatrical agent Michael, are the first celebrities ever to look into their ancestry together for Who Do You Think You Are?.
Father and son (opens in new tab) explored their roots for the BBC1 genealogy show this evening, and were shocked when they learned about a controversial relative who fought against democracy.
Michael's three-times great-grandfather and Jack's four-times great-grandfather was Thomas Jones Phillips, a solicitor and magistrate's clerk in Newport, Wales in the 1830s.
Passionate Tory Thomas fought determinedly against campaigns by the Chartists to extend the vote to all working men. In 1839, he arrested Chartists who led the Newport Rising to protest against the imprisonment of some of their members.
"Every story needs a villain. My best hope was that Thomas was just a pen-pusher following orders as supporting villain," laughed Jack.
"But it turned out our great ancestor was gathering evidence to bang up the guys fighting for the rights of workers in Wales. We peeled away the layers. He went from being an officious windbag to a full-blown snitch who tried to stop people fighting for freedom."
MORE: Naomie Harris: 'I feel different after doing Who Do You Think You Are?' (opens in new tab)
However, the Whitehalls learnt that although John Frost, one of the Chartists Thomas arrested following the rising, was sentenced to death for high treason, he eventually got a reprieve.
"That was a happy ending through all this darkness and despair and our scumbag ancestor!" says Jack. "Thomas died only three years after John's sentencing though. We saw a plaque at the church where he is buried. It was above the toilet - that was a sad and a little weird!"
After their hard-hitting discovery, Jack joked that he might need to distance himself from his paternal line!
"There's not a lot of light in our story. Now I know about Dad's ancestry I'm going to have to sever ties because his ancestors were wrong'uns!" he said. "I should've done the show with Mummy [actress Hilary Gish] instead!"
Who Do You Think You Are?, featuring Jack Whitehall and Michael Whitehall, airs on Monday 5 August on BBC1 at 9pm
Caren has been a journalist specializing in TV for almost two decades and is a Senior Features Writer for TV Times, TV & Satellite Week and What's On TV magazines and she also writes for What to Watch.
Over the years, she has spent many a day in a muddy field or an on-set catering bus chatting to numerous stars on location including the likes of Olivia Colman, David Tennant, Suranne Jones, Jamie Dornan, Dame Judi Dench and Sir Derek Jacobi as well as Hollywood actors such as Glenn Close and Kiefer Sutherland.
Caren will happily sit down and watch any kind of telly (well, maybe not sci-fi!), but she particularly loves period dramas like Call the Midwife, Downton Abbey and The Crown and she's also a big fan of juicy crime thrillers from Line of Duty to Poirot.
In her spare time, Caren enjoys going to the cinema and theatre or curling up with a good book.
Thank you for signing up to Whattowatch. You will receive a verification email shortly.
There was a problem. Please refresh the page and try again.