Jack Whitehall finds a 'scumbag' ancestor in Who Do You Think You Are? tonight!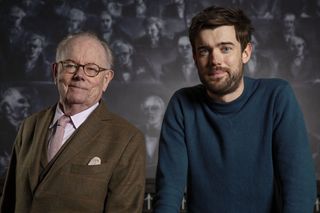 (Image credit: BBC/Wall to Wall Media Ltd/Stephen Perry)
Jack Whitehall reveals how he and his dad Michael discovered a 'villain' in their family tree as they take part in Who Do You Think You Are?
Comedian and actor Jack Whitehall and his deadpan dad, former theatrical agent Michael, are the first celebrities ever to look into their ancestry together for Who Do You Think You Are?.
Father and son explored their roots for the BBC1 genealogy show this evening, and were shocked when they learned about a controversial relative who fought against democracy.
Michael's three-times great-grandfather and Jack's four-times great-grandfather was Thomas Jones Phillips, a solicitor and magistrate's clerk in Newport, Wales in the 1830s.
Passionate Tory Thomas fought determinedly against campaigns by the Chartists to extend the vote to all working men. In 1839, he arrested Chartists who led the Newport Rising to protest against the imprisonment of some of their members.
"Every story needs a villain. My best hope was that Thomas was just a pen-pusher following orders as supporting villain," laughed Jack.
"But it turned out our great ancestor was gathering evidence to bang up the guys fighting for the rights of workers in Wales. We peeled away the layers. He went from being an officious windbag to a full-blown snitch who tried to stop people fighting for freedom."
MORE: Naomie Harris: 'I feel different after doing Who Do You Think You Are?'
However, the Whitehalls learnt that although John Frost, one of the Chartists Thomas arrested following the rising, was sentenced to death for high treason, he eventually got a reprieve.
"That was a happy ending through all this darkness and despair and our scumbag ancestor!" says Jack. "Thomas died only three years after John's sentencing though. We saw a plaque at the church where he is buried. It was above the toilet - that was a sad and a little weird!"
After their hard-hitting discovery, Jack joked that he might need to distance himself from his paternal line!
"There's not a lot of light in our story. Now I know about Dad's ancestry I'm going to have to sever ties because his ancestors were wrong'uns!" he said. "I should've done the show with Mummy [actress Hilary Gish] instead!"
Who Do You Think You Are?, featuring Jack Whitehall and Michael Whitehall, airs on Monday 5 August on BBC1 at 9pm
Get the latest updates, reviews and unmissable series to watch and more!
Thank you for signing up to Whattowatch. You will receive a verification email shortly.
There was a problem. Please refresh the page and try again.