James Martin: I get offered lots of ideas, but The Box sounded different, unscripted and fun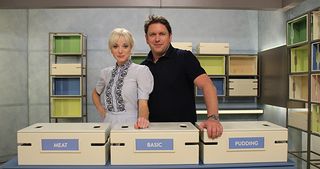 James Martin chats to TVTimes on throwing out the cook books and raiding the cupboards for BBC1's new cookery contest The Box (BBC1 daytime, Monday, May 25).
James is surely the best-fed presenter on TV. With the crème de la crème of chefs dropping into his Saturday Kitchen studio each weekend, he gets to taste the food of masters. So we imagine he's a tad nervous about judging BBC1's brand new cookery competition, The Box – given that they're all amateur home cooks!
What's it like judging amateur cooks?
"I am used to tasting exceptional food. I wasn't quite sure what to expect from this lot but, touch wood, we're half-way through filming and I'm happy. We haven't had any horrific failures – yet!
"Brought to us by the makers of MasterChef and running daily over the next five weeks, The Box sees three enthusiastic home cooks pitted against each other to create a dish from an unseen box of ingredients."
What's the idea behind a box of unseen ingredients and no recipe books for the contestants?
"It celebrates what families do every day when they fling open their cupboards and think, what can we make out of this little lot today?"
So you've thrown away the cookery books for this show, James…?
"We have – it's all about the contestants thinking on their feet. It's a game of two halves, with a bit of jeopardy and bit of strategy thrown in. The contestants must first create something delicious from a mystery box, with the winner receiving the power to choose what they'll cook next.
"For the second test I put together three boxes – such as The Basic Box, The Chocolate Box, The Left Overs Box – and the winner chooses the one they want and also chooses what the others will cook with. That's where the strategy comes in and they get chance to stitch their opponents up and play nasty, which they generally do!"
You've got some impressive celebrity guests involved…
"They're fantastic. Mary Berry loved it because it's so different, as did Fay Ripley, Ainsley Harriott and actresses like Helen George and Jessie Wallace, who are all big foodies. And unbeknown to the contestants, they watch them cooking with their chosen ingredients. Rosemary Shrager was shouting at the TV monitor over what they were doing with hers!"
What appealed about the show for you?
"For a start it's from the makers of MasterChef so they've huge experience in hit food programmes. I get offered 5-10 TV ideas a week and turn most down, but this sounded different, unscripted and fun. And I get to be a judge."
Have you asked your Bake Off pal, Paul Hollywood, for judging tips?
"Nah, he's too busy eating cake at the moment! I'm a fair but critical judge. At the end of the day, I'm there to help them create three nice plates for the guest – not leave them struggling or stitch them up. If they need showing what to do with a crab claw or artichoke I'll get stuck in."
Worst and best thing you've tasted so far?
"I've had one of the hottest dishes I've ever eaten in my life. Someone used raw cayenne pepper and Rosemary Shrager got a mouthful and nearly choked! We called it The Defibrillator. The best dish was a by a big burly Northern lad more used to cooking meat and veg. He created some tapas out of chickpeas, which was bloody lovely. I've never done anything like that before."
Get the latest updates, reviews and unmissable series to watch and more!
Thank you for signing up to Whattowatch. You will receive a verification email shortly.
There was a problem. Please refresh the page and try again.