Jeremy Clarkson says goodbye to Top Gear: 'I'm so sorry it ended like this'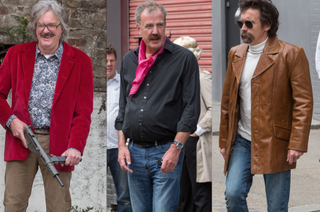 After his last ever Top Gear episode screened on Sunday night, Jeremy Clarkson said he was 'so sad and sorry it's ended like this'.
The final episode featuring Clarkson, James May and Richard Hammond screened on BBC Two. Clarkson was sacked from the show after he physically assaulted Top Gear producer Oisin Tymon earlier this year.
Clarkson tweeted to fans his 'thanks and encouragement over the years' after the show.
Many many thanks for all your support and encouragement over the years. So sad and sorry it's ended like this
— Jeremy Clarkson (@JeremyClarkson) June 28, 2015
The show itself, which ran for 75 minutes, made no reference to their departure, nor the circumstances. It included two separate segments featuring the trio and included a voiceover from Jeremy Clarkson ,while May and Hammond filmed new links.
Closing the show, May said: "Thank you very much for watching and, well, goodbye."
Hammond later tweeted enigmatically about the 'incredible adventure' the trio had embarked on during their decade-long stint on Top Gear.
Can't believe that one life has room to accommodate the first and the last steps of that incredible adventure. Thanks for your company.
— Richard Hammond (@RichardHammond) June 28, 2015
With the kind of humnour much beloved by fans of Top Gear, May tweeted:
Thanks for all your kind comments about Top Gear last night. To be honest, I was expecting more shit about that jacket.
— James May (@MrJamesMay) June 29, 2015
Introducing the show, May welcomed viewers by saying: "Hello, and welcome to what's left of Top Gear."
Behind him was the 'elephant in the room', a 10ft plastic replica elephant which the show's makers borrowed from a Hull design company. It was called Jeremy.
It's expected to be the highest rating episode of Top Gear, beating the audience of 8.35 million who tuned in to see Lewis Hamilton's appearance in December 2007.
TV and radio broadcaster Chris Evans will be the new presenter of the globally popular motoring show when it eventually returns.
Get the latest updates, reviews and unmissable series to watch and more!
Thank you for signing up to Whattowatch. You will receive a verification email shortly.
There was a problem. Please refresh the page and try again.