Jessica Raine: 'The thrill of the story and the epic romance, Jericho is my dream job' (VIDEO)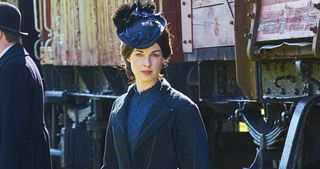 Former Call the Midwife star Jessica Raine says her new role in ITV's Yorkshire-set historical drama is her 'dream job'.
Jessica plays a schoolmaster's wife who's left penniless and homeless when her husband suddenly dies. To survive, she's forced to travel with children Marth and George to a shanty town that's set up in the shadow of a railway viaduct. Her arrival in this lawless, almost wild west community forces her and her kids to find reserves of character at odds with their genteel upbringing.
Jessica is excited about the 'thrilling' new drama because the story is unique.
She told What's on TV: "It's a completely original story. I've never seen this time and this place on television before, which is really unique these days because there are so many channels and so many shows. And I wasn't aware of it ever, I wasn't aware that these shanty towns popped up in Yorkshire. So to be able to research them as much as I possibly could, it was difficult because it was very local knowledge, so actually being there helped a lot. But people don't know about it."
She continued: "The thrill of the story and the epic romance, it's like a dream really, a dream job for me anyway, because she goes through so much, Annie goes through so much. And she changes. All the characters are very mercurial and shifts of identity happen constantly with every single character and that's very intriguing for an audience. And the town itself is a character in itself, I suppose.
"It's new, it's lawless, anything goes. In Victorian society, that's remarkable."
Jericho, an eight-part series, premieres on ITV on Thursday, January 7.
Watch Jessica Raine talking about the series, above."]
Get the latest updates, reviews and unmissable series to watch and more!
Thank you for signing up to Whattowatch. You will receive a verification email shortly.
There was a problem. Please refresh the page and try again.