Jim Broadbent: 'I hero-worshipped the Great Train Robbery getaway driver!'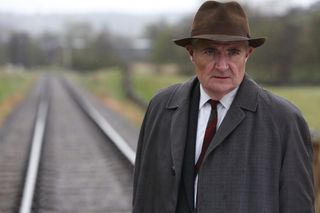 (Image credit: BBC/World Productions/Fello Mata)
A two-part drama The Great Train Robbery explores the iconic theft from the points of view of both the thieves and the police on their trail.
A Robber's Tale, which screens on BBC1 at 8pm on Wednesday, December 18, sees Luke Evans as the gang's leader Bruce Reynolds, while A Copper's Tale, which screens at the same time the following day, sees Jim Broadbent play Detective Chief Superintendent Tommy Butler, the dogged policeman who tried to bring them to justice.
TV & Satellite Week took Jim in for questioning and, under the spotlight, he revealed a quirky connection to the robbers.
How would you describe Tommy?
"He struck me as a very honourable and committed man who was dedicated to his profession."
Why did he become so single-minded in his quest to track down the robbers?
"He was a determined man and so it stands to reason that the crime would take over his life. Any career policeman presented with the crime of the century would take it on wholeheartedly and when he became aware of the personalities involved he became obsessed."
Was there any research you could do as he is less well-known than the robbers?
"There are photos of him which were telling and a little film of him being interviewed which was very useful and there is a lot written about his guardedness and his dour manner."
What are your memories of The Great Train Robbery?
"'I was 14 when the robbery happened and with all the clues emerging, it was huge in all our minds and a big national event. Then it was made more exciting for me because later that summer, after the robbery, I went to the race track at Cadwell Park in Lincolnshire and saw Roy James, who was the getaway driver, win a race. I hero-worshipped him because my father's name was Roy and mine was James. Years later when I played a barrister in a film I went to the Old Bailey and there was Roy in the dock for a bullion fraud with fellow train robber Charlie Wilson. I was the only person in the visitors' gallery and I thought, 'These are train robbers, they are stars, where is the audience?'"
Did your views change while making the show?
"Obviously my point of view has matured somewhat since I was 14! You are always going to have charismatic thieves and these were the last of that ilk, nobody since has caught the public imagination, but I am on Tommy's side now."
What was your most memorable day of filming?
"There was one scene we did where Tommy was supposedly in the south of France walking along the beach showing the mug shots of the robbers to holidaymakers, but we filmed it in Scarborough where it was freezing cold and I thought that it could never look like the south of France and and they obviously deemed it didn't because it didn't make it into the film!"
Get the What to Watch Newsletter
The latest updates, reviews and unmissable series to watch and more!
Caren has been a journalist specializing in TV for almost two decades and is a Senior Features Writer for TV Times, TV & Satellite Week and What's On TV magazines and she also writes for What to Watch.
Over the years, she has spent many a day in a muddy field or an on-set catering bus chatting to numerous stars on location including the likes of Olivia Colman, David Tennant, Suranne Jones, Jamie Dornan, Dame Judi Dench and Sir Derek Jacobi as well as Hollywood actors such as Glenn Close and Kiefer Sutherland.
Caren will happily sit down and watch any kind of telly (well, maybe not sci-fi!), but she particularly loves period dramas like Call the Midwife, Downton Abbey and The Crown and she's also a big fan of juicy crime thrillers from Line of Duty to Poirot.
In her spare time, Caren enjoys going to the cinema and theatre or curling up with a good book.