Liar star Joanne Froggatt: 'Everyone in my new ITV drama has secrets!'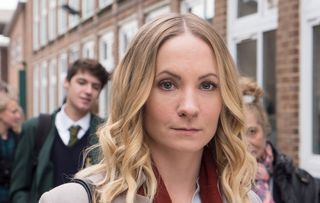 Joanne Froggatt is embroiled in a web of deceit in her tense new psychological thriller Liar
Joanne Froggatt was put through the mill as maid Anna in Downton Abbey and there's no let-up for her in her new role as a troubled teacher in ITV's psychological thriller Liar. The six-parter begins as Joanne's character Laura goes on a date with charming widowed surgeon Andrew Earlham (Ioan Gruffud). The next day they each have very different takes on what happened the previous night and dark accusations start flying around with devastating repercussions. But which of them is lying?
Here, Joanne tells us more…
What attracted you to Liar? "I accepted the role after only reading the first two episodes, which I haven't done for a while. It's a real page-turner and just so intriguing in terms of the psychological drama."
Tell us about Laura "Laura has just broken up with her boyfriend Tom [Warren Brown] and goes on this date with Andrew and they have what seems to be an amazing evening together but it doesn't turn out as they imagine. Both their lives change dramatically after that night, as they have very differing views about their experiences."
Have you been trying to guess which of them is telling the truth? "Yes! We've been solving the mystery as we go along and people will be debating at home too. I've been surprised a few times along the way because it is hard to tell what the truth is and your opinion will swing from one way to another because it goes between each of their perspectives. It throws up a lot of moral questions too because nearly everyone in the drama has secrets and is lying about certain things so there's more and more mystery that unfolds."
Was there any research you could do? "I did do a lot of research into all sorts of things and spoke to some psychologists too. I always feel a big responsibility, especially when I'm playing anything that has a sensitive subject matter, but I often seem to take on those roles. Perhaps I should do some comedy next!"
This must be very different to film from Downton Abbey, but do you still have fond memories of that?
"It's nice to be out of the corsets for a while! Downton was an amazing experience for all of us but it was the right time to finish, on a high. I was definitely ready to move on and I've been really fortunate to get such varied roles since. We had a cast reunion dinner recently and we'd love to all go back for a film but it's tough to get everyone together, so we'll have to wait and see."
Liar begins on Monday 11th September on ITV at 9pm
Caren has been a journalist specializing in TV for almost two decades and is a Senior Features Writer for TV Times, TV & Satellite Week and What's On TV magazines and she also writes for What to Watch.
Over the years, she has spent many a day in a muddy field or an on-set catering bus chatting to numerous stars on location including the likes of Olivia Colman, David Tennant, Suranne Jones, Jamie Dornan, Dame Judi Dench and Sir Derek Jacobi as well as Hollywood actors such as Glenn Close and Kiefer Sutherland.
Caren will happily sit down and watch any kind of telly (well, maybe not sci-fi!), but she particularly loves period dramas like Call the Midwife, Downton Abbey and The Crown and she's also a big fan of juicy crime thrillers from Line of Duty to Poirot.
In her spare time, Caren enjoys going to the cinema and theatre or curling up with a good book.
Get the latest updates, reviews and unmissable series to watch and more!
Thank you for signing up to Whattowatch. You will receive a verification email shortly.
There was a problem. Please refresh the page and try again.