Doctor Foster star Jodie Comer: 'Filming the rows in Rillington Place was very draining!'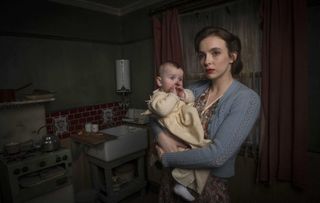 (Image credit: BBC/Des Willie)
Jodie Comer has just entered Rillington House as tragic wife Beryl Evans at the end of the BBC1 drama's creepy first episode...
Jodie Comer is no stranger to powerful dramas, after starring as a girl who was held prisoner in a cellar for 13 years in BBC3's Thirteen, then she had the nation hating her as the other woman in BBC1's runaway hit Doctor Foster.
Now Jodie, 23, is starring as tragic Beryl Evans in the true story of serial killer John Christie (played by Tim Roth) in Rillington Place. We caught up with Jodie who told us more about her latest role...
Were you aware of the case before you took the role of Beryl in Rillington Place? "I'd heard vaguely of it. But not in detail. But I didn't really know what had happened until I got the part and I read a book on the case. I'd always heard of 10 Rillington Place and my dad was aware of it."
And when you did research, did the full horror of it really strike you? "Absolutely. It's crazy to think that these things go on on a normal street where people are going about their everyday lives and something so hideous can go on and no one is aware of it and it's right under your nose."
Did you feel the real responsibility of playing a real person? "Yes, I did. When we came to shoot it you realise how much you have to be sensitive towards the material and what you are doing and do it justice because there are families who are still having to deal with what happened.
"Beryl's family came to set one day, but I wasn't there. It just makes it very real. You realise we are playing dress up and making this show, but at the end of the day this was someone's life. You have to handle it with great care."
Less is known about Beryl than about her husband Timothy Evans (Nico Mirallegro) – how did you approach that character? "You read about these cases in the newspapers and they are just a name, it was most important to me to show that for them to move into this house was such a massive opportunity for them and they were so full of life and they loved each other. Then they had a new-born baby and it was a new start. When approaching Beryl that was what I tried to focus on. Even though Beryl was as real person, it is not so much an impersonation."
At the beginning Beryl and Timothy were so full of happiness and promise, but then it goes wrong. Why was that? "I think it all got too much. The whole situation of being in such a small house and having no money and having a small child. You're having your problems and you have a baby to look after, it happens now. They were so young and they had so much pressure and I think it just built up and built up. I think that is what tipped them over the edge in their relationship. Beryl was feisty. They argued, but she gave as good as she got."
You and Nico Mirallegro, who plays your husband Timothy, have some quite heated rows. Were they fun to do or quite draining? "There was one row in particular that was really draining. But they are what get you most excited. You just have to work on them. You might be working on them for two or three hours and with each take you might find something different. Sometimes it works and sometimes it doesn't. It is fun finding that and seeing what happens."
The drama shows a gritty, grim, drab side to the 1940s and 1950s which we sometimes think were more glamorous times…was that an eye opener? "Completely. Because the set was very much like the real house. It was just crazy walking around and thinking this is how people lived. And it wasn't that long ago. It was years ago. It sounds like so long and it really wasn't and I think that's what makes the story even more harrowing. It's not that far away from now.
"The house is like a character itself. You could really feel the pressure of what it was really like. Me and Nico went on to set and I said to the Craig the director, 'This is really awful. It's so grey and dark.' And he said you have got to remember that for Beryl and Tim coming in here this was amazing, this was a new life, this was their freedom, their independence, this was them making a new start."
Tim Roth is so sinister as serial killer Christie isn't he? "It's weird, sometimes you're in a scene, get lost in it and then [he] brings it back to 'Oh my God this really happened'. I don't believe that when Beryl moved in there were any red flags with this guy. I wouldn't say he was endearing, but an older man who lived downstairs.
"At first there wasn't any reason to doubt him and I think that's what makes it even creepier to have your trust in someone like that and not know the extent of what they're capable of or what they're doing in the same house. Tim was amazing."
Can you ever have fun when you are making anything as dark as this drama? "You can always have fun. When I was doing 13 and I had some harsh scenes, it would filter out to the crew and there would be a general atmosphere. But these are people's lives and you have got to handle it with such care and everyone wants to do a good job and make people aware of what happened and the injustice. It adds an extra layer of consciousness of being aware of what you are doing or what you are saying. You have got to be careful."
Do you seek out powerful dramas like this and Thirteen? "I think so, yes. I like giving myself a challenge. I am quite an emotional person anyway. I think those kind of emotions interest me to explore. Thirteen was something that I could never imagine being in that situation, so to try and act that out I knew was going to be a task, but it was something I was really up for doing. You want to be put through your paces, you don't want to be taking the back seat and feeling like you're breezing through. You want to feel like you are being pushed."
Were you surprised at the huge hit Doctor Foster became? "Yeah. It was a bit crazy. With any new drama you just don't know how it's going to go. It really got people hooked and think probably part of that was because a lot of people knew someone who had been in that situation or had been in that situation themselves. And they like to think of how they would react in that situation and what they would do. I think that was why people got so hooked on it. But it was a surprise, a nice surprise."
People seemed surprised that you were going to be in the second series of Doctor Foster, out next year… "I think they were. I am looking forward to this new series. The audience is going to see a different side to Kate and maybe more from Kate's perspective which I think is fun because everything can kind of seem one-sided and there are two sides to every story, so I think it will be good for the audience to see."
Can you tell us anything about new series? "It picks up two years later. I can't tell you any more. It's all very hush, hush, hush, I'll get into trouble if I tell you anymore more I started filming last week, after I finished filming The White Princess."
And what reaction did you get from viewers over the first series? "People would look at you and say, what do I know you from and you say Dr Foster, they go (does a sharp intake of breath) 'You're that woman!'
"It is kind of fun when you play those characters because of how emotionally attached people get to them. If they really hate them then that's a good thing, it means not that you have done the right thing but that they have felt something and took something from it which I think is fun. And it's always kind of like in jest. It's great to see that. I am like that. When I see soaps I attach the person to the character and you see them walking down the street and you realise they are not their character, they are a real person."
What's it been like doing a historical drama like the White Princess, which is a follow up to the White Queen? "Period drama like that was always something I definitely wanted to do. White Princess was such an amazing experience. It's a big show. I underestimated the effort that goes into it. Your days are like two and a half hours longer. You're up at five and getting home at 8.30pm because you're in early because of hair and make up. I underestimated the toll that can take for such a long job – five months.
"But it's funny I feel more comfortable in a different era. I felt really strange going into modern-day clothes for Doctor Foster. I was like ' I don't like it.' But because I think I was in corsets for five months and now I am in jeans and boots. When you get into those kind of costumes it really helps become someone else. They really help you get into the character."
How do you shake off a role like Rillington Place? "I'm not too bad at leaving it behind. Toward the end of 13 it was a bit different. I was like I need to go home, need to have a group hug from my family. Usually once you take your costume off and take your make up off, you go home, then I am back to normal life. I'm not bad at tuning out."
Why do you think this was a good time to make Rillington Place? "It is so important to tell the story of the injustice of what happened. I think it is such a big thing for the families to be open as well. Watching this must be like reliving it. Such a bold choice and the strength in that to say 'Yes we want to tell the story and go through it and speak to producers and directors and tell them what these people are like and what happened'.
"It is such a big thing for them to do and I just hope we have kind of given them justice and not enjoy it, that's the thing, I don't know if they can enjoy it but at least feel proud about it."
Rillington Place continues on BBC1 every Tuesday at 9pm
I'm a huge fan of television so I really have found the perfect job, as I've been writing about TV shows, films and interviewing major television, film and sports stars for over 25 years. I'm currently TV Content Director on What's On TV, TV Times, TV and Satellite Week magazines plus Whattowatch.com. I previously worked on Woman and Woman's Own in the 1990s. Outside of work I swim every morning, support Charlton Athletic football club and get nostalgic about TV shows Cagney & Lacey, I Claudius, Dallas and Tenko. I'm totally on top of everything good coming up too.
Get the latest updates, reviews and unmissable series to watch and more!
Thank you for signing up to Whattowatch. You will receive a verification email shortly.
There was a problem. Please refresh the page and try again.