Julia Bradbury: 'Juggling filming with IVF was hard...'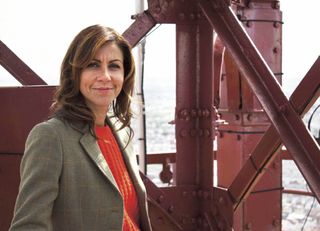 TV Times talks to Julia Bradbury about her brand new series, The Wonder of Britain, and her pregnancy surprise...
Well, it has been a very eventful year for you hasn't it?
"It has been quite a year. Just filming this new series has been different enough. We've gone from the Outer Hebrides to the bottom of the country and covered everything in between. We were filming for seven months. The crew travelled 12,000 miles altogether. And all of that has been fitted in with everything else that's been going on in my life, including the pregnancy. Logistically, it's been a real challenge."
Tell us a bit about your new show, The Wonder of Britain…
"Essentially it's a celebration of the things that make Britain stand out as this iconic home of magnificent landscapes, rich history and architectural diversity. It's shot beautifully – we used different digital formats, drones, helicopters, cranes, you name it, and each episode takes a different look at our best-loved treasures. It starts with our greatest buildings and moves on to the countryside, royal stories, industrial stories and finally our coastline. It's a little bit of everything really."
You did a lot of very interesting things whilst filming this, abseiling, zipwires, flying a seaplane, you even dressed up exactly as Elizabeth I would have done. What was that like?
"There are so many layers, and the material is so heavy, that I could hardly move. When they showed me a mirror, all I can say is that I looked like Robin Williams – God rest his soul – in Mrs Doubtfire."
Of course, while all this was going on you were going through IVF treatment. Was it hard to juggle that and filming?
"It was really difficult, because obviously you can't tell anybody. You're not sharing all this when you're going through it, so you just have to get on. And then there's the physical side of it as well. One minute you're flying a plane. The next minute you have to go to the loo to inject yourself. And you can't tell anybody: 'Actually, I need 10 minutes just to have a little bit of calm, just to have a breather on my own'."
After four failed attempts, did you ever think about stopping the treatment?
"I think, because of my age and everything it puts your body through, I was certainly getting to that stage. But we really were passionate about wanting a sibling for Zeph (three-year-old son, Zephyrus). That was the drive behind this. It wasn't about me desperately wanting to have another baby, though of course I'm thrilled and want that. The driver was very much that Zeph had somebody else in his life to grow up with, because I have that. I have a sister I'm very close to and Gerry (Julia's partner Gerard Cunningham) is one of eight, so we both have a clan mentality. With our final round – having tried to squeeze everything in and make it work amongst all the filming and the schedule – I decided that the best thing would be take some time out. So I took a long summer holiday in Greece with the family. It was very relaxed. For about four weeks I had nothing on my mind to work around. And lo and behold, that's the time it worked."
And now you're having twins! What was your reaction to that?
"Slightly gobsmacked, then absolutely thrilled and also cautious, because, again, there are risks involved with IVF and with twins and with being an older mum. Every step of the way with IVF is a milestone, and I'm hoping that I can get to the next milestone, and that the little things are healthy, and that they come out healthy and happy."
Will you be taking a break once they are born?
"With Zeph, I was back to work 12 weeks later, doing a new geology series with Hugh Dennis (The Great British Countryside). I'm not going to make that mistake again! Filming and trying to breastfeed as well? No. And then obviously it's a completely different story when it comes to twins. So I'm definitely going to take some time off."
Well, it seems that 2015 will be even more eventful than last year…
"It's going to be an exciting year. I've got two very big things happening at once."
The Wonder of Britain starts on Tuesday January 6 at 9pm on ITV.
Get the latest updates, reviews and unmissable series to watch and more!
Thank you for signing up to Whattowatch. You will receive a verification email shortly.
There was a problem. Please refresh the page and try again.