The Walking Dead's Kalani Queypo on playing Native American Indian Chacrow in Jamestown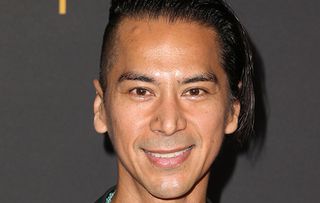 (Image credit: David Buchan/Variety/REX/Shutter)
Kalani Queypo plays Chacrow in Sky 1's epic 17-century New World frontier drama Jamestown. We caught up with the Walking Dead actor to find out what's happening to Chacrow's Pamunkey tribe, who have an uneasy relationship with the English settlers, in series two...
What is happening to Chacrow in this series?
"He is acting as a translator. He is friends with Silas, but also has a responsibility to his people. He is caught between the two communities and is finding it very hard. Despite the difficulties Chacrow goes through, I love playing this part. The producers have made this drama so authentic. They have gone about it in a beautiful way. There's a real sense of commitment to the story we're telling."
What made you so keen to take part in Jamestown in the first place?
"I knew that the producers were approaching the drama from a very good place. I know Buck, the cultural consultant, so I knew that the Pamunkey language would be involved. Any programme dealing with Native American language can be very daunting; producers are worried about the commercial aspect. They're concerned about whether viewers will be able to follow it and the technical side of hiring the right actors and coaches. But all that has been done brilliantly on Jamestown."
Sophie Rundle, who plays Alice, has also spoken to us about the return of Jamestown
Tell us about the difficulty of learning Algonquin.
"There were once over 500 languages spoken in North America, and the Pamunkey language has been dormant for a century and a half. It's an amazing opportunity for the Pamunkey people! It's wonderful to reawaken their language. But I had to put the producers at ease that I could do the language well. In my career, I have spoken over a dozen Native languages."
Do you relish the challenge?
"Yes. Some people might see it as a lot of work, but it's something I really enjoy and take very seriously. I have to do a huge translation scene between the settlers and the Pamunkey chief. It is equivalent to asking an English actor to do a scene in Mandarin, and I only had two weeks to learn it. People assume that Pamunkey is my language, but it isn't. It's been hard work, but it's also been an absolute privilege."
What does the Pamunkey dialogue add to the drama?
"It informs who the character is. You're channelling a way of life. It's a tremendous responsibility, but I think it's been achieved so well on this drama."
Do you feel it is right that the Pamunkey characters are at the forefront of the drama?
"Absolutely, we are not subsidiary characters. Last year I only did three episodes, but this year I'm in the entire season. I think that's a testament to the fact that we were able to pull off the language. It underlines the authenticity and success of the Native American stories in Jamestown. This year we have way more language and storyline. That is very important to me."
Tell us more
"The Native American characters are fully fleshed out and three-dimensional. There are characters such as Opechancanough who are political and thoughtful and thoroughly three-dimensional. This is a messy, tricky, awesome concoction of people. These brilliant characters are what have drawn audiences to the story and have led to the show's success of Jamestown."
Jamestown returns to Sky 1 on Friday 9 February with a double bill
Main pic credit: David Buchan/Variety/REX/Shutter
Get the latest updates, reviews and unmissable series to watch and more!
Thank you for signing up to Whattowatch. You will receive a verification email shortly.
There was a problem. Please refresh the page and try again.