Singer Kate Nash says GLOW role gave her a 'new relationship with her body'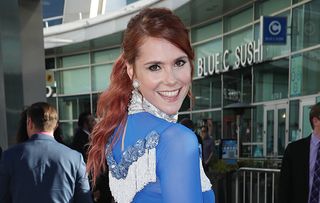 Kate Nash's GLOW character gave the singer a better relationship with her body. The role saw Kate swap singing for spandex and female wrestling.
British pop star Kate Nash has revealed her role in Netflix's latest series GLOW helped her form a new positive relationship with her body, something she hopes other young girls watching the show will learn from.
If you haven't watched the series that everyone is talking about, you'll want to read our round-up of everything you need to know about GLOW (opens in new tab).
According to the singer, it only took five words to convince her to audition for the role: spandex, glitter, sequins and female wrestling. Kate said when she read the show's description she thought "this sounds like the best thing I have ever heard in my life".
Kate plays Rhonda Richardson, someone the singer describes as confident and caring. Speaking about Rhonda, Kate said: "It is not quite that she doesn't care what people think, I think she is just oblivious to what people think of her. Which I think is really liberating."
The Foundations singer found the whole role very freeing. She said: "Psychologically to get into that mindset where you are just not thinking about the way you are being judged. It is so rare, most of our lives are built on how other people see us and think about us."
This is Kate's first acting role after over a decade of experience performing on stage.
She added: "Personally, this role brought me a lot of confidence and a new relationship with my body that I never had...That is something I am really hoping that young girls in particular can get out of the show. You know, your body can have a physical purpose other than trying to look perfect."
Kate was keen to take her role seriously and her new found confidence helped this. She said: "I wasn't like 'I want to look good on camera'. I was like 'I want to look like a good wrestler on camera', which was really cool."
Having such physical roles meant all the cast got close very quickly according to the singer. She said: "You are not usually worrying about injuring someone when you first meet them. So it brought everyone really close together really quickly."
Kate also revealed that the cast are still all very close. She said: "We are sickeningly in love with each other. We are all on a group WhatsApp still."
GLOW is available to watch on Netflix now. There are 10 30-minute episodes.
Get the latest updates, reviews and unmissable series to watch and more!
Thank you for signing up to Whattowatch. You will receive a verification email shortly.
There was a problem. Please refresh the page and try again.