Everything you need to know about the new Netflix series GLOW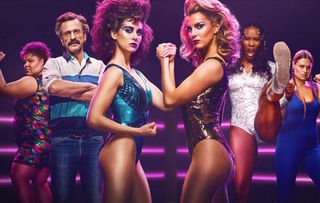 If you think a series dedicated to the art of female wrestling isn't for you, think again. GLOW is the new Neflix series everyone is raving about.
GLOW is a major new launch by (opens in new tab) Netflix which follows the trials and tribulations of the women in a female wrestling league. Inspired by the real story of the 1980s show Gorgeous Ladies Of Wrestling, the series is set in Los Angeles and is full of spandex, glitter, sequins and girl-on-girl wrestling. What more could you want from a series?
Everything you need to know about GLOW:
The show is brought to you by the creative minds and producers behind Orange Is The New Black, Jenji Kohan, and Homeland, Tara Herrmann. Alison Brie stars as the main character Ruth Wilder and is joined by comedian and actor Marc Maron, who plays the ladies' sleazy but oddly likeable director Sam Sylvia.
British pop star Kate Nash has also switched the microphone for wrestling and stars as Rhonda Richardson, a physically confidant woman who Kate thinks is wrongfully considered a little stupid. It is the Foundations singer's first major acting role
GLOW is an overwhelmingly female-led series at all levels. It has 14 female cast members and the producers and creators are all women – and for several of the stars this was one of the most attractive things about the show.
https://youtu.be/AZqDO6cTYVY
The full series went live on 23 June so there are 10 x 30-minute episodes ready and waiting to fulfil your weekend Netflix-binge slot. By the end of series one you'll be searching for rumours of season two... Nothing has yet been confirmed (or denied) but given the positive response the series has received so far, it is safe to assume another series will not be far behind.
Who are the gorgeous ladies of wrestling?
Ruth 'Zoya the Destroya' Wilder (Alison Brie)
Ruth is an out-of-work, struggling actress in the 1980s who is desperate to reach stardom. She gives her career one final shot when she is thrust into the world of female wrestling.
Speaking about her role, Alison revealed that she really related to the character because, at first, the producers din't think she was right for the role. In fact, she had to audition four times!
She said: "I was really interested in shattering the preconceived notions that they must have had of me and it really made me feel a lot like the character, I think, who feels underestimated and like she is trying to prove to people that she is capable of so much more."
Debbie 'Liberty Belle' Eagan (Betty Gilpin)
Debbie is a former soap star who left the business to have a baby. She is keen to get back to work when her home life fails to become the idyllic scene she had imagined after she discovers her best friend Ruth slept with her husband!).
When her hatred for Ruth is played out in the wrestling ring as a US vs Soviet Union drama, the sparks fly.
Cherry 'Junk Chain' Bang (Sydelle Noel)
Cherry is a former stunt double who embraces her leadership role within the GLOW gang. Her wrestling persona, Junk Chain, uses her street cred to give her the edge while in the ring.
Rhonda 'Britannica' Richardson (Kate Nash)
Rhona is a native Brit who takes on the persona of the brainy Britannica in the ring. Kate describes Rhonda as someone who is extremely confident. She said: "It is not quite that she doesn't care what people think, I think she is just oblivious to what people think of her, which I think is really liberating. I think she would be shocked to hear that people think she is dumb or weird. I am quite defensive when people say Ronda is dumb; she is not dumb, she is not academic."
Carmen 'Machu Picchu' Wade (Britney Young)
Carmen is from a wrestling family, but dreams of putting her own stamp on the profession. Her wrestling persona is a confident and strong crowd-pleaser, but she is terrified when she first tries to wrestle in public. Can she overcome her stage fright?
Jenny 'Fortune Cookie' Chey (Ellen Wong)
Speaking about the characters, Ellen said: "What I think is so amazing about GLOW is that we're getting to critique stereotypes but through humour, amazing stories and together as women." Her wrestling persona is one example of a character that plays off stereotypes.
Justine 'Scab' Biagi (Britt Baron)
Justine is a young punk rocker who loves the liberating nature of female wrestling, but whose rebel nature is challenged by the pizza delivery guy she falls for.
Dawn 'Edna Rosenblatt' Rivecca (Rebekka Johnson)
Dawn and Stacey are described as the 'rodeo clowns of GLOW' by Johnson.
Stacey 'Ethel Rosenblatt' Beswick (Kimmy Gatewood)
Stacey joins GLOW with her best friend Dawn. The pair are hairdressers, but are quickly entranced by the world of female wrestling. Often the joke is on these two practical jokers.
Arthie 'Beirut the Mad Bomber' Premkumar (Sunita Mani)
Arthie is a medical student with dreams of fame in Hollywood. Her wrestling persona is another example of a character playing to stereotypes.
Melainie 'Melrose' Rosen (Jackie Tohn)
Tohn takes on the role of a brash, big-hair music video queen. Her questionable morals and performance experience will surely be of use when she enters the ring.
Reggie 'Vicky the Viking' Walsh (Marianna Palka)
Reggie, who is ordinarily an introvert, grows in confidence when she joins the GLOW gang, but the former Olympic star is angry she didn't get chosen to be Liberty Belle
Sheila 'the She Wolf' (Gayle Rankin)
Gayle's character is an enigmatic women who identifies as a wolf in and out of the ring... Definitely the weirdest of an unusual group of women, you do not want to make a sudden move around her!
Tammé 'The Welfare Queen' Dawson (Kia Stevens)
Kia is the only cast member with real-life pro wrestling experience. Her wrestling persona knows how to work the system in the ring when it is show time.
And not forgetting the GLOW coach...
Sam Sylvia (Marc Maron)
Comedian Marc Maron takes on the role of a washed-up, B-movie director who leads the group of misfit women into the wonderful world of female wrestling stardom. The cocaine-addled sleazebag begrudgingly takes on the project in the hope that it will help finance his dream.
Speaking about his character Marc says: "He's struggling to get films made. He's got a little bit of a cocaine problem, he has been through a marriage or two; he's not great socially. But he's passionate, and he wants to make things work."
Glow season one is available to stream on Netflix in its entirety now.
Get the latest updates, reviews and unmissable series to watch and more!
Thank you for signing up to Whattowatch. You will receive a verification email shortly.
There was a problem. Please refresh the page and try again.