King Charles III was the role of Tim Piggott-Smith's life, says writer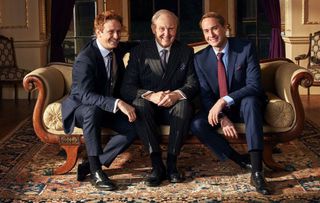 The acclaimed actor Tim Piggott-Smith had, like Prince Charles, waited all his life for a defining role, according to Mike Bartlett
The writer of TV drama King Charles III has paid tribute to its late star Tim Pigott-Smith, claiming it was the role he had waited his whole career to play.
Tim, who died suddenly in April aged 70, had starred as a post-accession version of Prince Charles in the original stage play in 2014 before filming the TV adaptation of the drama for BBC2, which screens on Wednesday.
Writer Mike Bartlett said the actor, known for his role in 1984 TV series The Jewel In The Crown, had been searching a long time for a defining part such as playing the royal.
He said: "It did feel that this role was something special for him.
"He was exactly the same age as Prince Charles and like him, in a way, had been waiting for a role at some deep level for a while.
"He was a very acclaimed, accomplished actor, but maybe in terms of finding that role, he was in expectation."
Talking about Tim's work ethic, Mike continued: "My god, he worked hard, he just tore into it like a 22-year-old.
"He was a great man and a great actor, but this was also the great role for him.
"The saddest thing is that he never got to see the film – we kept offering it to him, but he didn't want to watch the work.
"He had an odd suspicion about watching himself."
>> Read an interview with Charlotte Riley about playing Kate Middleton in King Charles III
Oliver Chris, who plays Prince William in the drama and also starred alongside Tim in the stage version, gave a heartfelt tribute to his late co-star.
He said: "The net gain that the world has received from having him in it is so extraordinary that whilst it may be scant consolation for a life so tragically cut short, everybody who knew him, worked with him, had the pleasure of being mentored, comforted, supported, interacted with him, and everyone who has taken joy from his many magnificent performances, we can treasure that selfish memory.
"It doesn't feel like he is no longer with us because the residue of what he has left behind is so vivid and so special that I'm privileged and honoured to have known him and worked with him."
King Charles III screens on BBC2 on Wednesday at 9pm.
Get the latest updates, reviews and unmissable series to watch and more!
Thank you for signing up to Whattowatch. You will receive a verification email shortly.
There was a problem. Please refresh the page and try again.