Knights of the South Bronx & other inspirational teacher movies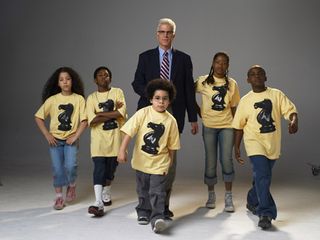 Couch Potato Pickings
How many of us are lucky enough to be truly inspired by a teacher at school?
Judging how many inspirational teacher movies there are out there, you'd think it was quite common. I don't think it is. There was only one teacher during my school years who was truly inspiring.
In Knights of the South Bronx, Ted Danson's teacher inspires inner city students with chess.
Almost any subject is capable of touching hearts and minds though, if taught well. Here are a few of them...
Basic reading skills, taught to soldiers by Danny DeVito.
Hilary Swank inspires inner city kids to write.
I personally wasn't very good at this subject at school.
(Is it just me, or is anyone else humming a certain song now?)
No, it's not a movie about Jamie Oliver's attempts to reform school dinners. The teacher in this film dedicates his life to inspiring the pupils at a school for boys. This is the granddaddy to all the "inspirational school teacher" movies.
Can you guess what Julia Roberts might be teaching her girl students in this one?
Click here to find out if you need to be inspired by this movie.
Antonio Banderas is strictly inspiring in this one.
Mark Dacascos and martial arts
Richard Dreyfuss makes a fuss about music.
Meryl Streep gets passionate about the violin.
Shirley MacLaine gets even more passionate about the piano.
No, it's not masonry, I'm still on the musical theme.
Sister Act 2: Back in the Habit
Whoopi Goldberg gets soulful about choral music.
More choral music, en Francais
Lulu...
More writing.
Dead poets.
Samuel L Jackson and basketball.
Keanu Reeves and baseball.
Terrence Howard and swimming.
A rather disappointing D-minus spoof of all of the above.
There are also a load of made-for-TV movie ones, so this list could go on for ever. Here's a list of the teacher movies that have been the highest grossing at the US box office.
Get the What to Watch Newsletter
The latest updates, reviews and unmissable series to watch and more!