Lacey Turner: 'I loved hanging out of a helicopter in Our Girl!'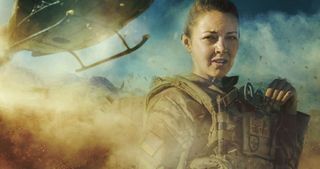 (Image credit: BBC/Coco Van Oppens/Kaia Zak)
EastEnders' Lacey Turner (opens in new tab) talks to TV Times magazine (opens in new tab) about the challenges and rewards of filming BBC1 military drama Our Girl (Sunday, Sept 21) in South Africa...
Why did you want to come back to the character of Molly Dawes in Our Girl?
"I was keen to play Molly again because she's a great character – so ballsy and so fearless. You don't know what she's going to do next and that's exciting. The one-off was about Molly finding herself and belonging, and, this series, you see her grow into a woman, which is really lovely."
The action in this series picks up six months later as Molly's on her first nine-month tour of duty in Afghanistan with Two Section platoon…
"When she first meets Two Section, Molly's not made very welcome by the group. They've been working together for six months and they spend all day, every day, with each other so I suppose you have to earn your way in. To be fair, she wins them over quite quickly with her witty comments and mischievous behaviour."
She gets off on the wrong foot with the Platoon's dedicated leader Captain James (Lark Rise to Candleford's Ben Aldridge) - and things get even more complicated when she discovers an old flame she'd rather forget, cocky Welshman Smurf (Game of Thrones star Iwan Rheon) is one of her teammates!
"There's a love triangle! It's quite nice because James and Smurf are so different."
You filmed in Cape Town, South Africa, which had to double for Camp Bastion in Afghanistan. Was the exotic wildlife an issue?
"The snakes weren't the problem – it was the crickets! They were everywhere. We had this massive talk on snakes, they brought out all the different species that we could see out there, but I didn't actually see one. However, I did have a few fights with a couple of crickets that lasted for nearly an hour each!"
How did you prepare for the role of Molly?
"You stay as fit as you can, but I don't think anything can really prepare you for that heat, those clothes and those mountains! The biggest challenge for me was the heat. Some days it was really hot, like 47 degrees, and in the beginning you're not used to wearing all the kit – you've got boots, socks, trousers, t-shirt, jacket, vest, helmet... And then there's the bag, which weighs around six stone. It's like carrying a small child – and the medic has two bags. So, yeah, it's now fair to say I'd rather work in the rain!"
What were your favourite moments from filming?
"I loved hanging out of a helicopter where the doors don't shut – you could fall out, you won't, but you could! I've never really done something action-packed before, so it's exciting!"
Did it give you a respect for people who are in the Army?
"What they do, their strength and bravery is so inspiring. I'm very humbled to be involved in Our Girl. You feel a pressure to get it right because what they do is so amazing and you don't want to disappoint them really. For me, if all the soldiers were the only people who watched it and they were happy with it, that would be enough for me."
Get the latest updates, reviews and unmissable series to watch and more!
Thank you for signing up to Whattowatch. You will receive a verification email shortly.
There was a problem. Please refresh the page and try again.