Levi Roots on his guest role in Death in Paradise: 'Ardal O'Hanlon told me that he and his family like Reggae Reggae Sauce!'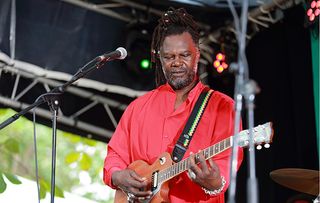 (Image credit: BBC/RedPlanet Pictures/Denis Guy)
Levi Roots, who's pictured as his character Billy, makes his acting debut in Death in Paradise
Levi Roots won the nation's heart when he wandered on to Dragons' Den, playing the guitar and singing about his culinary creation, Reggae Reggae Sauce. Dragons Peter Jones and Richard Farleigh invested and the condiments king has since built an empire.
But the relaxed entrepreneur isn't stopping there… Next on Levi's list is a career in acting, starting with a guest role in hit BBC1 crime drama Death in Paradise. Jamaican-born Levi, 59, plays guitarist Billy Springer, who is murdered when he reunites for a final gig with his band…
Talking to TV Times, here Levi Roots reveals all about swapping cooking for a role in Death in Paradise in next Thursday's final episode...
How did you get the role?
Levi Roots: "I wanted a challenge and the part fell in my lap. I've always been a big fan of the series and I probably would have done any job that involved a week in the Caribbean! Danny John-Jules [Dwayne] is a hero of mine and Ardal O'Hanlon [Jack] told me that he and his family like Reggae Reggae Sauce!"
What can you tell us about Billy?
LR: "He now hates the lead singer of the band, but he has to go on stage with him because they are doing a reunion gig. Unfortunately, he finds out a big revelation that night, too. It was definitely the right acting role for me, especially as I get to sing and perform on stage!"
You filmed your episode during Hurricane Maria – that must have been very scary?
LR: "It was absolutely terrifying. It was one of the most violent hurricanes they've had in years and it caused complete devastation, the memory will always be with me."
How has life changed since your 2007 success on Dragons' Den?
LR: "I still pinch myself every day about how fantastic that moment was. Since then it's got bigger and better. I was so surprised when I got to Guadeloupe for filming the episode. Everyone on the island seemed to have heard about the sauce and my escapades in the Den! I find that most people of Caribbean heritage tend to be proud to see someone who has made a success of their life, who doesn't kick a ball or run fast – it's a nice change from the stereotypical way Afro-Caribbean people become famous.
Do you still work closely with your mentor, Peter Jones?
"Yes, we still share an office! From the moment we met, that relationship has been something brilliant. He hasn't seen me act yet, but he loves TV, so I'm sure he'll be watching my Death in Paradise episode to see how I've done!"
The final episode of this series of Death in Paradise is on BBC1 on Thursday at 9.00pm.
Get the latest updates, reviews and unmissable series to watch and more!
Thank you for signing up to Whattowatch. You will receive a verification email shortly.
There was a problem. Please refresh the page and try again.