Life in Squares' James Norton: 'Duncan bonded the group because he slept with them all!'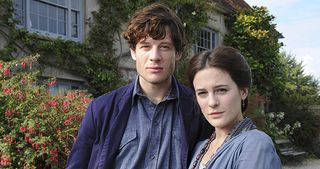 (Image credit: BBC/Ecosse Films)
In the first half of the 20th century, no one shocked polite society more than the Bloomsbury Group of writers, artists and free thinkers.
This week, their unconventional art and lives are brought back to life in new BBC2 drama Life in Squares (opens in new tab) (Monday, July 27), a title inspired by American writer Dorothy Parker's remark that the group 'lived in squares, painted in circles and loved in triangles'.
At the heart of the three-parter, which begins in 1905, are painter Vanessa Bell (Phoebe Fox), and her sister, the celebrated novelist Virginia Woolf (Lydia Leonard).
TV Times (opens in new tab) caught up with James Norton (opens in new tab) and Phoebe Fox (opens in new tab) to chat about their new portrayal of a group of artists that helped liberate modern Britain.
Were you aware of the Bloomsbury Group before you played Vanessa Bell?
Phoebe: "I was, but not the people that made it up, apart from Virginia Woolf. This drama celebrates the fact that Virginia was a force of nature and far more than just a brilliant writer who killed herself. It also opens up the rest of them and shows that they were pretty awesome in their own right too.
"They did make mistakes, it wasn't a perfect life and there were sacrifices, but they championed great things such as love, creativity and feminism, they were incredibly forward thinking and defined society with their choices and even foresaw the swinging Sixties."
Tell us more about Life in Squares...
Phoebe: "As it progresses, it focuses on the close, but difficult relationship between the two sisters and also on the surprising romance between Vanessa and fellow painter Duncan Grant, played by James Norton.
"Duncan and Vanessa had a child together, daughter Angelica (Lucy Boynton), despite the fact Vanessa was married and Duncan continued to sleep with male lovers."
What did you find most interesting as the story unfolded?
Phoebe: "I was fascinated by the fractious, tense and bizarre relationship between the sisters. Even though they were strong women, their family was plagued by mental health issues.
"I also felt sad that Vanessa was living the life that she wanted, but that she fell in love with a man who would never be able to requite that love. It was heartbreaking."
http://www.youtube.com/watch?v=kFE_Gy2AcBg
James, Duncan had a captivating presence in the drama, so did you become intrigued by his character?
James: "Everyone loved being with him. Someone said that what really bonded the Bloomsbury Group, other than their fascination with art, was this shared love for Duncan, which was manifested in an affectionate but also physical way, because he slept with them all!
"He was a free spirit and epitomised the wonderful part of the Bloomsbury Group that was open, impulsive and liberated, and he loved life but he also represented how flawed their life was because he left behind a lot of pain and broken hearts."
Angelica didn't learn that Duncan was her father until she was 18. Why was that?
Phoebe: "They didn't confront things and I think Angelica was quite scarred."
The drama spans 40 years with Rupert Penry-Jones, Catherine McCormack and Eve Best taking over the roles of the older Duncan, Virginia and Vanessa in the 1930s and 1940s...
How did you feel about handing your role over to someone else?
Phoebe: "I felt very possessive and over-protective about Vanessa. It felt horrible that someone else was also playing her!"
Filming took place in the real haunts of the Bloomsbury Group, including London's Bloomsbury Square and Charleston, the East Sussex farmhouse that was Vanessa and Duncan's home. What was it like on set?
James: "Charleston is so atmospheric, the group still feel very present there and it had this very spooky, affecting energy."
You both met Vanessa's granddaughters Virginia Nicholson and Henrietta Garnett. How was that experience?
James: "Henrietta turned up with all of the heady eccentricity of the Bloomsbury group. She summoned us and looked me up and down and told me to lie down and choreographed me into this classic Duncan pose.
"I was laying there thinking, 'What on earth is going on?' But then she pulled me into a hug and cried, 'Oh, darling Duncan'. So then I was accepted!"
Get the latest updates, reviews and unmissable series to watch and more!
Thank you for signing up to Whattowatch. You will receive a verification email shortly.
There was a problem. Please refresh the page and try again.