Liv Tyler: 'I knew very little about the Gunpowder plot'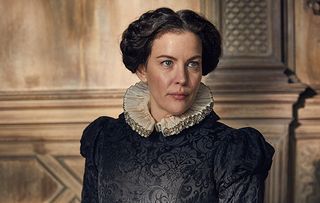 (Image credit: BBC / Kudos)
Liv Tyler on making her British TV debut tonight and being a Happy Valley fan...
Superstar Liv Tyler, who has acted in films such as Armageddon and Lord of the Rings, makes her British TV debut tonight in BBC1's new drama Gunpowder.
The 40-year-old star plays the role of Anne Vaux, the cousin of Robert Catesby [Kit Harrington], who some historians suspect alerted the authorities to the infamous 1605 Gunpowder plot.
Here, Liv Tyler has revealed more about her part in Gunpowder...
What can you tell us about Anne?
Liv Tyler: "Anne is a staunch Catholic woman, and she played a very important role in helping to protect and hide priests. In this story she has a very strong relationship with Father Garnet (Peter Mullan), who was a very prominent priest at that time; they have a beautiful friendship."
How much did you know about the Gunpowder plot?
LT: "Very little! You hear a lot about Guy Fawkes because he was the one who was caught red-handed, but you don't always hear what was going on religiously and politically at the time, and why they did what they did."
Why did you want to work on British TV?
LT: "I'd just moved to London, and having spent the previous two years growing babies I wanted to dive into a creative project headfirst. My English agent has wonderful taste and she came to me with this. I really liked it and I'm enjoying revisiting my English accent that I used for Lord of the Rings. I like BBC dramas anyway – I loved The Fall and Happy Valley."
Gunpowder starts on BBC1 tonight at 9.10.pm
Get the latest updates, reviews and unmissable series to watch and more!
Thank you for signing up to Whattowatch. You will receive a verification email shortly.
There was a problem. Please refresh the page and try again.