Luther wins ratings battle for BBC as season 5 finale pulls in SHOCK viewing figures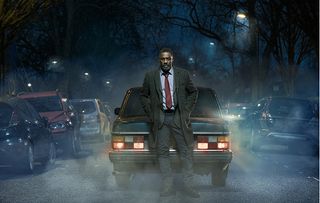 (Image credit: BBC/Des Willie)
Thrilling detective drama Luther finished its fifth season on Friday night with a very dramatic ending, so it comes as no surprise that it also managed to absolutely smash the ratings war.
Starring Idris Elba as the rogue detective who doesn't play by the rules, the BBC One hit managed to take a 21.7% share and peaked with 4.7 million viewers, according to The Independent.
This means it it beat Jeremy Clarkson's Who Wants To Be A Millionaire on ITV, which notched up 3.7 million.
BBC Two's Billy Connolly: Made In Scotland, was watched by 2.2 million viewers, while The Big Fat Quiz Of Everything on Channel 4 brought in 1.7 million viewers.
It comes after the first episode of Luther also proved more popular than Doctor Who with 5.62m people tuning in on New Years Day.
Meanwhile, the dramatic final episode left viewers in a state of shock after it appeared to kill off two of its major characters.
There was a terrifyingly bloody incident almost every five minutes as a masked killer stalked a victim on the top deck of a London bus and people were electrocuted and shot at.
But despite many fans complaining the drama was too gruesome, now Hermione Norris, who played evil psychiatrist Vivien Lake, has defended the script written by Neil Cross.
The Cold Feet star said, "Job well done if people are feeling like that, Neil is achieving what he's set out to achieve.
"He is very good at preying on our deepest psychological fears.
"It's Luther, it's about serial killers, it's a frightening drama. Neil doesn't shy away from scaring people."
Although it looks like Hermoine was hiding behind a pillow just like the rest of us when it comes to the scary scenes, as she added, "I can't go and see horror films, I don't like scary things.
"I know people who do, and they like the adrenaline hit. I'd probably be with Idris watching Shrek myself."
Thank you for signing up to Whattowatch. You will receive a verification email shortly.
There was a problem. Please refresh the page and try again.