Make Me a Dealer host Paul Martin: We're not like Lovejoy!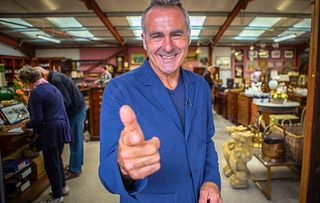 (Image credit: BBC/Osian Davies)
Paul Martin on his new show
Antiques dealer and Flog It! presenter Paul Martin has always had an eye for a bargain and now he's passing on his expertise in BBC1's new daytime show Make Me a Dealer.
Paul will be advising two wannabe antiques dealers as they compete to make the biggest profit by buying items at auction and selling them on.
"Maybe they've watched antiques TV shows like Flog It! and Bargain Hunt for years and this is their chance to take their enthusiasm to the next level," says Paul, 59.
Here, Paul Martin gives the lowdown on what it takes to be a successful antiques dealer and Make Me a Dealer...
Tell us about the show…
Paul Martin: "We take two people with a love for antiques and help them put the knowledge they've got from Flog It! and other shows into practice. They're buying at trade prices at auction then selling in shops, fairs and to private clients. The contestants use their own money, too, which ups the pressure."
How do you prepare them?
PM: "I give them a whole day's tutorial. We discuss spotting fakes, spotting damage, spotting reproduction and what's quality and what's not. Then the following day we go to an auction preview and discuss what they should be buying with the budget they have."
What sort of advice do you give to the contestants on the show?
PM: "Stick to your comfort zone, whether it's porcelain or jewellery. Then you need the gift of the gab and the confidence to buy something at auction. Hold your nerve, don't overbid, stick to your budget and make sure you give everything the once-over before buying it. And do your market research."
It sounds like there could be some potential disasters, though!
PM: "It's really funny. Some people completely mess it up and make a loss on what they've bought."
What mistakes have you made in the past at auction?
PM: "It's the things I didn't buy that I regret. Also, once I drove miles to an auction and I was so tired when I arrived there, I bought the wrong lot!"
Do you think antiques dealers get a bad press?
PM: "You can't knock Lovejoy – he's a lovable rogue, isn't he?! But in reality I've not met a bad dealer."
Make Me a Dealer is on BBC1.
Get the latest updates, reviews and unmissable series to watch and more!
Thank you for signing up to Whattowatch. You will receive a verification email shortly.
There was a problem. Please refresh the page and try again.