Marooned star Ed Stafford: 'Going naked has a massive effect on how you approach things'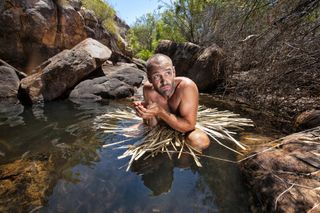 (Image credit: Discovery Communications/Luis As)
Ed Stafford walked his way into the Guinness Book of Records by trekking the entire length of the Amazon, and followed that up by being stranded for 60 days on a desert island.
Now the 38-year-old former army captain is taking on another series of gruelling challenges for the Discovery series Marooned (opens in new tab) (premieres Sunday, May 4), which will see him attempting to survive and thrive for 10 days at a time in some of the world's toughest environments. Starting in Venezuela, the former expedition leader arrives without a stitch of clothing or any provisions or tools, armed with nothing but a camera. We met up with a fully clothed Stafford in London to glean a few survival tips…
In this series, what is the difference between surviving and thriving?
"You could survive doing absolutely nothing – just lose weight over 10 days and moan about how hungry you are and how bad the weather is. To thrive you've got to throw as much positivity into it as possible and look for ways to make your life more comfortable. It's a limited period of time in which to get the most out of these environments and to live that life as much as possible."
Why the no-clothes rule?
"It really underlines the purity of going in with nothing. It also looks great because you end up actually wearing something that's made from the jungle. From a psychological perspective I have to admit it does make it harder. You're not hitting the ground running with a stout pair of boots, trousers and a jacket. You're going in there like the day you were born, and that has a massive effect on how you approach everything."
You do your own filming. How do you rate your skills as a cameraman?
"I've never had any formal camera training and, if it was filmed too well, viewers would think there was a camera crew around. If people don't believe you're on your own, you lose what sets this series apart. Because I'm on my own, I'll suffer the consequences if I mess up - which I do time and time again. This isn't about hiding failures."
Is your army training useful in these situations?
"Actually a lot of the strategies I use I learned through some Aboriginal friends I made a few years ago. They've traditionally spent periods of time on walkabout getting next to nature and I like their way of dealing with things so much better. The Aboriginals think you have three brains: your gut, which is your soul, your heart, which is your emotions, and your logic brain. That is the one that all Westerners, who are screwed up, use to run their lives."
What's wrong with the logic brain?
"When you live in this brain and you're out on your own, you tie yourself in knots with anxieties and fears. It sounds airy-fairy but, when you can come from that truer place of self, it makes life so much easier and everything just seems to flow. For instance, I can find firewood and food much more easily."
Do you think losing touch with nature has a negative effect on our beings?
"It's no coincidence that things like meditation and Eastern philosophies are very fashionable these days. We do get very tied up in an introspective, stressful world, and I think we lose that simple freedom of just living, enjoying life and being grounded. The things I've learnt in the survival situation have helped me not to waste energy on battles that don't need to be fought."
If you could have taken one luxury and one practical item with you on Marooned, what would they have been?
"From a practical perspective, a lighter. It takes a long time to light a fire, and fire is so core to civilised life. My luxury item would be a pair of shorts as I don't like being naked. Fire, shorts, I'm happy."
What did you learn from your time in the army?
"I gained the ability to make decisions and be flexible. They say no plan survives contact with the enemy. You make a plan, but it has to evolve as things change. Not many things push you physically as hard as the military. In the Amazon, no matter how bad things got, I knew I'd been pushed harder and that's a nice thing to know. If you think you're being pushed harder than you have been before, it's unnerving. But I don't feel very ex-military any more and it's become an increasingly small part of who I am."
Were you into the great outdoors as a kid?
"I grew up in the middle of the countryside and I was always building dams and treehouses and playing manhunt all over the fields – stuff maybe you couldn't do as a kid today. Then I joined cubs and it became more constructive – you could navigate and put up a tent and stuff like that. I loved living next to nature, and it was very much a part of who I was. That's why I ended up joining the military. I didn't have any desire to go to war at all, but I saw it as the job that would get me out in the open doing outdoory suff. It's sort of come full circle to making treehouses and building fires again. That's what I do now."
What do you make of TV's other survival experts?
"Bear Grylls is the obvious comparison. I spent a couple of years slating his programmes but, when I met him, he was lovely and he's been so kind to me. We both acknowledge that we're doing very different things and there's a mutual respect. Bruce Parry and I used to be quite good friends and both led expeditions for a company called Trek Force. I loved the stuff he did on indigenous tribes."
Would you describe yourself as a glutton for punishment?
"A lot of people say: 'Why would you put yourself through this sort of thing?' But I've never shied away from being uncomfortable and I've always put myself in situations where I am having to use my wits to get through. Don't get me wrong, we do have Egyptian cotton sheets on the bed at home."
What drives you, and what do you get out of your adventures?
"If life were set in stone and the same every day, it wouldn't feel like you had to grow, so I think the challenges are necessary. I feel like I'm learning a little bit from everything I do. It puts you in a good position to be able to a look for solutions to things and gives you certain wisdom."
Ranulph Fiennes described your Amazon trek as 'truly extraordinary'. Is he a hero of yours?
"He's a legend and he was really supportive of Walking the Amazon. What he's done is brilliant and I admire the way he doesn't compromise himself."
That expedition put you in the Guinness Book of Records. Did you dream of being in it as a kid?
"I did, and it really annoyed me that people were in in there for things like building a pyramid out of poppadums – anyone could do that."
Get the latest updates, reviews and unmissable series to watch and more!
Ian writes about TV and film for TV Times, What's on TV and TV & Satellite Week magazines. He co-hosts the weekly TV streaming podcast, Bingewatch.
Thank you for signing up to Whattowatch. You will receive a verification email shortly.
There was a problem. Please refresh the page and try again.