Mary Berry: 'I've been known to wake up in the middle of the night to jot down 'mango chutney''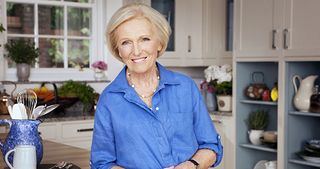 (Image credit: BBC/Shine TV)
You'd think that a knee replacement just before your 80th birthday might be the perfect excuse to slow down a bit, but this is Mary Berry we're talking about. Slowing down, resting up, taking things easy – these are words given short shrift by Mary.
Instead, the nation's Queen of Cakes is sat before TV Times looking her usual immaculate self, telling us all about her new series, Absolute Favourites (BBC2, Friday, May 15), exploring favourite places and food with help from her favourite people...
Are you always on the go?
 "I did rest a bit after my knee operation. I'd come down for supper and find my husband, Paul, had emptied the dishwasher and cooked for me – both of which he'd never done before in his life."
Surely your husband must get stressed agonising over what to cook for you?
(She gives us the don't-be-silly look) "It was pretty basic; heating whatever my assistant, Lucie, had left out for him, but still, I was impressed and grateful!"
For the programme you were asked what your favourite things were. What are they?
"I came up with the seaside, countryside, home – places that formed my happiest memories and moments that made me fall in love with cooking."
Tell us a bit about the programme...
 "So we've made a series around my genuine memories, with recipes of course. And I have to say I've never enjoyed making a programme more. It's been a complete joy. We explore the places and food I love most, from the seaside, countryside and farmer's markets, to herb gardens, allotments and my Buckinghamshire home.
"And because I use the word 'Why?' a lot, we've included adventures of pastimes I love to do or have always wanted to do, such as the countryside episode where I go off mushroom foraging."
Do your children appear in the show with you?
"Yes, Tom and Annabel love foraging so they joined me and guess who found the porcinis? Me! I'm so privileged to be doing such fun stuff."
Where did you spend your childhood holidays?
"It was usually Devon or Cornwall. You didn't go abroad in those days – I'm ancient remember! It was after the war and petrol was scarce so you went fairly close, or camped."
Was it difficult choosing your absolute favourite dishes for the series?
"Not at all. I'm forever paring down. I keep a notebook on me and always jot down new ideas or ingredients to try. I've always got food on my mind – terribly boring aren't I? I even keep a notepad by my bed and have been known to wake up in the middle of the night to jot down mango chutney.'
So what did you choose?
"I only chose recipes that have gone down well with family and friends over the years."
Your father grew vegetables for the war effort, so did you enjoy the visiting the Tangmere allotment in East Sussex?
"I was bowled over by the amazing friendship group they've built up. They have BBQs, supper clubs, they swap recipes and cooking tips – it's wonderful."
What's your favourite episode?
"The one filmed at home where three generations of my family join me in the kitchen to get involved with the cooking. I enjoyed being with the children best, seeing their faces. I love my grandchildren and children being on TV with me – they're all such naturals, even when I'm tense!"
They must, we imagine, be incredibly proud of you and your career?
"Oh no, I don't think they're proud particularly. They just love cooking with me. I'm just Granny Cocoa.'
To millions of viewers, of course, Mary's not just Granny Cocoa – she's one half of the most popular judging duo on TV. Her soothing warmth and encouragement on Bake Off is the perfect foil to the icy glares and acerbic comments of her co-judge Paul Hollywood.
You begin filming the sixth series of Bake Off with Paul Hollywood this month. Do you miss him when you're working solo?
"I don't miss Paul, no. I love Bake Off, of course, because as a judge I know what I'm talking about with over 50 years experience. But making my own shows is more of a challenge."
Get the latest updates, reviews and unmissable series to watch and more!
Thank you for signing up to Whattowatch. You will receive a verification email shortly.
There was a problem. Please refresh the page and try again.