Midsomer Murders' Neil Dudgeon: 'People still love murders and the countryside!'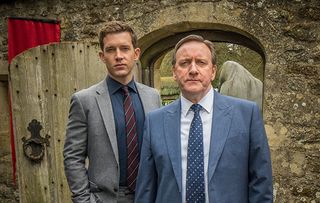 Neil Dudgeon on what's in store as Midsomer Murders celebrates its 20th series
Neil Dudgeon is back as stoic DCI John Barnaby to crack more weird and wonderful cases as Midsomer Murders clocks up its 20th series this week. While there are plenty of celebrations in store for the landmark run, Barnaby and sidekick DS Jamie Winter (Nick Hendrix) have a tough first investigation on their hands as they look into a killing at a cursed abbey-turned-brewery.
Here, Neil Dudgeon tells TV Times what to expect in the 20th series of Midsomer Murders…
TV Times: How does it feel to be celebrating the 20th series?
Neil Dudgeon: "Unbelievable isn't it?! It's testament to all the people who've worked on it. We've always had wonderful guests and people like murders and the countryside! I hope it's retained that unique, quirky Midsomer tone."
TVT: Next week's second episode has 20 'Easter eggs', which are hidden references to previous series for fans to spot…
ND: "Yes, it's an Easter egg hunt in the Midsomer garden. I don't think I'd get more than eight! But fans who know the show better than me will enjoy it. Although there are so many bizarre things in a Midsomer episode perhaps another 20 will hardly register!"
TVT: Annette Badland joins this time as pathologist Fleur Perkins. Is it nice having new blood?
ND: "We always have lots of blood! Annette's wonderful. Fleur's an experienced, tough, independent-minded woman who stands her ground and is cheeky and there are hints about men from her past. Paddy - Barnaby's dog - is not keen - she wants him to have the snip!"
TVT: What can you reveal about the murders coming up?
ND: "That's the joy of Midsomer - the brilliant ways writers come up with for killing people. Someone's boiled to death in the first one, which guests stars Elaine Paige and Anita Harris, who were wonderful! Then in the second, we have butterfly collectors and rivalries in a society for people of high intelligence. Is there more to it than meets the IQ?!"
TVT: Can you imagine handing in your warrant card any time soon?
ND: "There may come a point when I'm too decrepit but I can't imagine not carrying on. There's endless room to continue because Midsomer reinvents itself with a different milieu each time. And it's a fallacy when people say, 'Is anyone left in Midsomer?' In 20 series, there's been about 350 murders - about 17 a year over a large county. That's nothing, more people die in farming accidents than Midsomer!"
Midsomer Murders returns on Sunday 10 March at 8pm on ITV
Get the latest updates, reviews and unmissable series to watch and more!
Thank you for signing up to Whattowatch. You will receive a verification email shortly.
There was a problem. Please refresh the page and try again.