Motherland's Anna Maxwell Martin: 'Julia parents just like me!'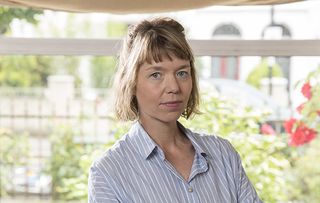 (Image credit: BBC/Delightful Industries/Merman)
Anna Maxwell Martin on showing off her comedy credentials by playing a harassed school run mum
BBC2's pilot comedy Motherland, which aired last year, accurately reflected the harsh reality of parenting, play dates and playground politics. Now, the cheeky sitcom is back for a six-part series, which centres on stressed-out working mum Julia, played by Anna Maxwell Martin, who tries to negotiate the ups and downs of childcare and the dreaded school run.
Here, Anna Maxwell Martin reveals all to TV Times about playing a frazzled mum in Motherland…
TV Times: Where do we find the parents this time?
Anna Maxwell Martin: "All Julia is doing is trying to sort out childcare because she can't get on top of her life! She's a working mum and that's difficult but she is a user and is heinous to her mum. What's funny is the preposterous and ghastly situations the parents keep getting themselves into at events ranging from a pool party to a fundraiser evening. There is not much politics about child-rearing, it's more about the politics between the adults and their hierarchy and rivalries and cliques. Because they are all quite petty and a bit weird, it is like they are the kids."
TVT: How do you see Julia as a parent?
AMM: "She parents quite like me [Anna is mum to daughter Maggie and Nancy with director husband Roger Michell], which is why I really like playing her. She is not a massive fusspot about her kids; she is practical about it. Often in drama, mums are shown constantly fussing over their kids every second and the reality of parenting is not like that because loads of it is just about logistics and telling them to move quicker or shut up! I have a laugh with my kids and take the mickey out of them."
TVT: Can you relate to the challenges she faces?
AMM: "She is totally the same as me; I am literally not doing any acting at all! I recognise all the characters from my school drop-off and I recognise the juggling because I had to leave filming one day because my childcare ran out and I remember one day filming scenes sending up the idea of presents for teachers in between answering my own emails about getting presents for teachers. I know about the pressures you feel from other parents too because there is a lot of judgment in parenting. It is very real."
TVT: What reaction did you get to the pilot episode?
AMM: "I have had people throwing themselves at me and thanking me and even people of my mum's generation have said, 'That is just what it is like, you are rushing around and you never quite have the time to focus."
TVT: What is it like working with all the children in the show?
AMM: "It is pretty full-on wrangling kids! We did some filming in a playground filled with kids and we spent two days at a swimming pool with about a million children. They work blooming hard though and they never moan, they just get on with it; they are really good."
TVT: You've done a lot of drama, is it fun to do something lighter?
AMM: "Absolutely. We all have a real laugh. When I was at drama school I did a lot of comedy but then after that I just became 'sad face" for about 15 years! So I really love doing this but it is hard and I was a bit worried because I think sometimes I'm playing it far too over the top. In one scene in the pilot I flung myself in a bush and the director told me off!"
Motherland begins on Tuesday 7th November on BBC2 at 10pm
Get the What to Watch Newsletter
The latest updates, reviews and unmissable series to watch and more!
Caren has been a journalist specializing in TV for almost two decades and is a Senior Features Writer for TV Times, TV & Satellite Week and What's On TV magazines and she also writes for What to Watch.
Over the years, she has spent many a day in a muddy field or an on-set catering bus chatting to numerous stars on location including the likes of Olivia Colman, David Tennant, Suranne Jones, Jamie Dornan, Dame Judi Dench and Sir Derek Jacobi as well as Hollywood actors such as Glenn Close and Kiefer Sutherland.
Caren will happily sit down and watch any kind of telly (well, maybe not sci-fi!), but she particularly loves period dramas like Call the Midwife, Downton Abbey and The Crown and she's also a big fan of juicy crime thrillers from Line of Duty to Poirot.
In her spare time, Caren enjoys going to the cinema and theatre or curling up with a good book.