Mum's Sam Swainsbury on his pride at playing an unsung hero in Victoria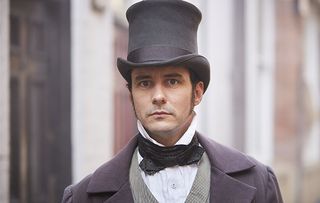 (Image credit: Justin Slee)
Mum star Sam Swainsbury reveals all about playing pioneering doctor John Snow in Victoria
Sam Swainsbury is best known as dopey Jason in BBC2's award-winning comedy Mum, but the actor will be seen in a very different role in this week's Victoria. The emotional episode of the ITV period drama sees him play shy but astute real-life doctor John Snow, who battles to stop a deadly cholera epidemic in London.
Here, Sam Swainsbury tells TV Times about his role in Victoria and why he'll be sad to see the end of Mum…
TV Times: Tell us about John Snow
Sam Swainsbury: "He was a doctor from York who studied cholera, which is a horrible disease. It was believed then that it was air-borne but we see John discover it's coming from the water in a single pump. People don't take him seriously at first, but he becomes paramount in stopping the spread and helps save thousands of lives. I feel responsibility to do this guy justice because he's one of the nation's unsung heroes."
TVT: What relationship does he have with Victoria (Jenna Coleman) when she asks for his help to stop the epidemic?
SS: "There's a lovely scene that shows Victoria's compassion. John's nervous but she calms him down and gets him to give his theory. In real life he later helped deliver her last two children. I'm hoping they put that in series four!"
TVT: How did you find John's Yorkshire accent?
SS: "Well I'm from Essex so it was nerve-wracking filming in York with a crew of 100 locals but no one said anything so they were either being polite or I got away with it! I was nervous doing a northern accent in front of Jenna too because she's from Lancashire, but she was lovely."
TVT: The third and final series of Mum is coming soon. Is there anything you can tell us about it?
SS: "No! All I can say is that it is going to be a belter. The scripts take a step up, they are the best so far. I don't think it'll disappoint. I'm so different from Jason though because I describe him as 'slow of thought' but in real life I'm suave and sophisticated!"
TVT: Are you sorry Mum is ending?
SS: "Yes, it's one of those dream jobs. Jason's a joy to play and to work with people like Lesley Manville, who plays my mum, is an honour. It was sad saying goodbye on set but the really sad day will be when it finishes on TV. We might have to get together to watch it and cry through a bottle of gin!"
TVT: You're also currently on the big screen in hit comedy Fisherman's Friends, based on the true story of a group of singing Cornish fishermen. Was that good to do?
SS: "It was fantastic. Port Isaac, where we filmed, is a beautiful part of the world. The community embraced us and the real band took us under their wing too. I'd love to do more singing as the sea shanties were so evocative. There were times when we were in the pub and spontaneously broke into song like we do in the film, it was lovely."
Victoria continues on Sunday on ITV at 9pm
Get the What to Watch Newsletter
The latest updates, reviews and unmissable series to watch and more!
Caren has been a journalist specializing in TV for almost two decades and is a Senior Features Writer for TV Times, TV & Satellite Week and What's On TV magazines and she also writes for What to Watch.
Over the years, she has spent many a day in a muddy field or an on-set catering bus chatting to numerous stars on location including the likes of Olivia Colman, David Tennant, Suranne Jones, Jamie Dornan, Dame Judi Dench and Sir Derek Jacobi as well as Hollywood actors such as Glenn Close and Kiefer Sutherland.
Caren will happily sit down and watch any kind of telly (well, maybe not sci-fi!), but she particularly loves period dramas like Call the Midwife, Downton Abbey and The Crown and she's also a big fan of juicy crime thrillers from Line of Duty to Poirot.
In her spare time, Caren enjoys going to the cinema and theatre or curling up with a good book.