Natalie Dormer: 'Sex and love make for great television!'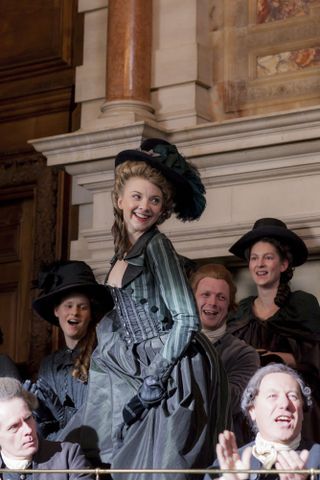 (Image credit: BBC/Wall to Wall Productions Ltd)
Natalie Dormer plays wronged Seymour, Lady Worsley in BBC2's one-off drama based on the true story that shocked 18th century society...
In a time when women were politically powerless, Seymour used the press to shame her kinky husband (played by Endeavour's Shaun Evans) into granting her a divorce so she could start a new life with her lover Captain George Bisset (Cilla star Aneurin Barnard).
The Silk and Game of Thrones star explains what happened when Lady Seymour and her aristocratic husband, Sir Richard, bitterly aired their dirty laundry in the London courts...
This is a story that wouldn't be out of date in today's tabloids, is it?
"That's effectively what it is, but in 1782! This was the first big tabloid scandal about an acrimonious marriage break-up in our history. Georgian free press was a great problem for people in power. Salacious gossip in the press was open to the public for the first time. It's the origins of our modern tabloid press."
What can you tell us about Lady Seymour and her situation?
"Seymour was a modern woman in a very unhappy marriage. As an 18th century women she was the property of her husband. Because of what happened, she lost her position in society, her daughter Jane, her money and was humiliated."
How did she fight back?
"Seymour learned to play the game of the press and use it to her advantage! Her husband wouldn't divorce her so she could marry the man she loved, so she fought back. They all end up getting dragged through the mud and put through the ringer, but she was emboldened by love. Fundamentally this is a story about a beautiful love affair. About not being able to escape an unhappy marriage. I think a lot of us can identify with falling out of love in an inconvenient manner. Seymour and George are so in love they feel like it's them against the world."
In revealing the private secrets and sexual perversions of her husband did Seymour also destroy her own reputation?
"Yes, she ends up losing everything. In a way, they all lose. There's a beautiful arc of self-identity in Seymour's story. Mentally and emotionally she was a victim. But slowly she learns empowerment. What do you do when you lose everything? You have some kind of epiphany, that's human nature and a timeless story. It doesn't matter whether you're in 1782 or 2015 failing in love, losing your children, being publically humiliated and losing money are fundamental human conditions. Even though we're walking about in britches and corsets these are themes for a modern audience."
What do you think you'd have made of the story if you've been around in that time?
"Well, because of my professional experience I always take everything I read with a massive shovel of salt! It doesn't matter whether it's an 18th century pamphlet handed to you on a street corner or you're logging onto the Internet – don't believe every thing you read…"
Do you think Lady Seymour's a feminist icon in a way?
"I think that's far too strong a term. You're talking about women who didn't even have the right to inherit let alone vote. So you can't say it's a precursor, it's going too far. The biggest hurdle for us to get over was to make the story empathetic to a modern day audience. We forget how hard women fought to have equality, and how far we've come in the space of 250 years."
What makes this one-off drama good television viewing?
"It all makes for great television – sex and love with dark undertones of psychological manipulation! Shaun Evans is an incredibly brave actor for taking on this role. I've so much respect for him playing Sir Richard. It's a testament and credit to him that he's taking on the role of the mean, psychologically manipulative husband!"
How does Seymour compare to your recent roles of Margaery in Game of Thrones and Cressida in The Hunger Games?
"They all have PR savviness! It was only when I was in rehearsal for this role that I realised Margaery in Game of Thrones, Cressida in The Hunger Games and Seymour in The Scandalous Lady W - all three women I've played recently - have taken naturally and sincerely to public relations. Margaery isn't lying when she stands in that orphanage and says she cares about the children. Cressida really wants to overthrow Snow; she's a revolutionary. While Seymour believes in equality for women. She believes a woman who is born an heiress should be able to hold onto her own money and define her own fate and not hand it over to men! And I've done it completely by accident!"
The Scandalous Lady W screens on Monday August 17 at 9pm on BBC2.
Get the What to Watch Newsletter
The latest updates, reviews and unmissable series to watch and more!
Writer for TV Times, What's On TV, TV & Satellite Week and What To Watch
With twenty years of experience as an entertainment journalist, Elaine writes for What's on TV, TV Times, TV & Satellite Week and www.whattowatch.com covering a variety of programs from gardening and wildlife to documentaries and drama.
As well as active involvement in the WTW family's social media accounts, she has been known to get chatty on the red carpet and wander into the odd podcast.
After a day of previewing TV, writing about TV and interviewing TV stars, Elaine likes nothing than to relax… by watching TV.