Nichelle Nichols: 'It feels like I've been in Star Trek since the day I was born.'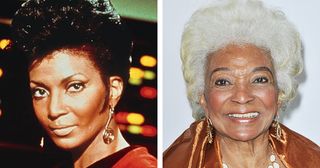 It's 50 years since Star Trek boldly began on US television, so we've marked the sci-fi show's half century anniversary by catching up with the amazing Nichelle Nichols who played communications officer Lieutenant Uhura aboard the Starship Enterprise from the very start…
The original series of Star Trek – which currently runs on CBS Action (weekdays 6pm) – was shown from 1966 to 1969, and soon became a cult hit around the world. It also led to an incredible following by dedicated fans, or Trekkies. From 1979 onwards there were a number of blockbuster films and spin-off shows. Here 84-year-old legend Nichelle Nichols tells What's On TV what it's been like to be an important part of the incredible Star Trek family…
Why has Star Trek endured so well? People are still watching the original shows, plus the many films. There are spin-offs and new films being made still. What is it about Star Trek that's made all this happen? "It's just an incredible idea and show. Even back in the 1960s I thought it would be made into films, because the writing and stories were so good. It's an honour to be in it. Everyone on Star Trek was much more dedicated than on other shows, where actors just picked up their pay cheque. It was unusual and nice. To be involved in a show people care so passionately about is a pleasure. The dedication is marvellous. It's kind of weird too, but you go with it."
What do you remember about your first day on the Star Trek set? "Not too much I'm afraid because it was such a long time ago. Now it just seems like Star Trek was always with us. It feels like I've been in Star Trek since the day I was born."
Dr Martin Luther King spoke to you about playing Uhura, what do you remember about that? "Oh yes Martin and I were friends and he was a big fan of Star Trek. It was when I was thinking of leaving the show. That wasn't on the card as far as he was concerned! So he told me I couldn't do it because Uhura's very visible role on television was so important in the era of Civil Rights. And you just couldn't say no to Martin! So I didn't leave the show. My family today still can't believe I was ever considering leaving Star Trek."
Did you get many fan letters at the time? "Yes and from many women, and people of all races, who loved seeing Uhura on the Enterprise, and being in such an important position. On the show it wasn't about colour, you just happened to be who you are. It was a multi-racial bridge, with Chekhov who was Russian, Sulu was from Japan and so on. Nothing had been seen like that on television at the time. It was groundbreaking and it was covered such ease."
What were your favourite ever Star Trek episodes to film? "Oh that's easy…any time Uhura got off the bridge of the Enterprise! Mostly everyone else got off the bridge but Uhura, who was left with her ear-piece forever saying, 'Hailing Frequencies Are Open, Hailing Frequencies Are Open!'
Is it emotional for you to rewatch the original series now that many of the cast, such as Leonard Nimoy (Spock), DeForest Kelley (Dr McCoy) and James Doohan (Scottie), have passed away? 'They're gone, but I just like to think they're on another planet for the time being… I do miss them."
Do you still see a lot of the remaining cast members, such as William Shatner (Captain Kirk), George Takei (Sulu) and Walter Koenig (Chekhov)? "We can't get rid of each other! But we don't spend too much time reminiscing. Our friendship just continues."
With the following Star Trek had, with the many conventions, it must have been nice to have that, so you could all get together again? "Yes that's right. This was the first show that really had all that. When I do the autograph line-up I always have a nice size line, and everyone has a question! Amazingly every single question can be different, too. But people always try to hear the question asked before them! Everyone takes it very seriously, and so do I because it's a good show."
You met President Obama at the White House– he's a big fan isn't he? "Are you kidding? He's the biggest Star Trek fan there is, and he loved Uhura. He's a Trekkie to his heart! Lord have mercy! There was me being so excited and honoured to arrive at the White House to meet our President, but I think he was far more excited to meet me! He was asking so many good Star Trek questions. He really knows the show and its details."
Is it true that you named Uhura for the show? "Yes it was from the Swahili word Uhuru which means freedom. I just gave it a twist to make her Uhura. In rehearsal, I just told them that she should be called Uhura. The producers then came back and asked why, so I told them about the 'freedom' element and they thought it wonderful and stuck with it."
In 1968, you filmed the first inter-racial kiss between a white man and black woman on US television with William Shatner as Kirk in the episode Plato's Stepchildren…what did you think when you were told that was going to happen? "I didn't think it was a big thing, because my grandpa and grandma did inter-racial kisses, just not on TV! It was a big thing for television though. I guess it was a proud moment to act out that part of TV history."
Have you kept any memorabilia from the Star Trek set, something like Uhura's red dress or communications ear-piece? "Oh I will never tell that. That's my secret!"
Would you like to be in the new Star Trek series coming out next year – the CBS All Access series is called Star Trek: Discovery? "I haven't really heard anything much about it. It depends what it's about. Somebody from the show was talking about it. Maybe I am I don't know. As long as they don't make me Admiral Uhura in it! There'd be too much work to do!"
* The digitally remastered original Star Trek series runs on CBS Action, weekdays, 6pm
Get the latest updates, reviews and unmissable series to watch and more!
Thank you for signing up to Whattowatch. You will receive a verification email shortly.
There was a problem. Please refresh the page and try again.