Ninja Warrior Final: Chris Kamara rates the finalists including a man who was in a James Bond movie!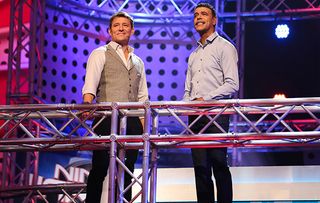 (Image credit: ITV)
Chris 'Kammy' Kamara on the eight potential Ninja Warrior UK champions…
After weeks of gruelling challenges, hundreds of hopefuls have fallen by the wayside and now only eight competitors remain to battle it out in this Saturday's Ninja Warrior UK Final!
But will any of them be the first person in the show's four-year history to reach the summit of Mount Midoriyama and take the honour of being crowned the first Ninja Warrior UK champion?
Host Chris 'Kammy' Kamara, 60, weighs up the strengths and weaknesses of each of the hopefuls in the Ninja Warrior UK Final...
Sébastien Foucan, 44 - Parkour coach
"Sébastien appeared in the James Bond movie Casino Royale and did all his own stunts! He might be one of the older finalists but he's fitter now than ever!," says Chris.
Sam West, 18 - Paintball marshal
"Sam does a lot of mountaineering, which requires a lot of grip strength in his fingers, and that could be crucial in the final course. But I just hope his inexperience doesn't count against him."
Deren Perez, 33 - Coastguard
"We call him 'Little Mowgli' and he's done well on the American Ninja Warrior. He has a slight build, but he's so quick and athletic. He's definitely one to keep an eye on during the final show!"
Mike Snow, 25 - Stuntman
"Mike impressed us all with his strength and quality. He didn't stand out as someone who might do well, but his performance during the heats soon made everyone sit up and take notice."
Brendan Riley, 32 - Parkour coach
"Brendan has a lot of flexibility and has a really big reach, which won't do him any harm. He's very laid-back, which will help him because nerves can be a killer!"
Jonny Urszuly, 30 - Personal trainer
"Jonny Awesome! He was Last Man Standing last season and he's just a machine. When it comes to technique, Jonny is the best of the lot because he's so acrobatic."
Ali Hay, 30 - Company director
"Ali made the final last year and has gone away and worked on his weaknesses. No one fancied him at the start, but he treated the course with no respect!"
Tim Shieff, 29 - Athlete
"He was the Last Man Standing in the first-ever Ninja Warrior UK and he's been my favourite competitor ever since. He's what makes this show seem possible, because while he doesn't look exceptional, he makes it look effortless."
Watch the Ninja Warrior UK final at 6.30pm tomorrow on ITV.
Get the latest updates, reviews and unmissable series to watch and more!
Thank you for signing up to Whattowatch. You will receive a verification email shortly.
There was a problem. Please refresh the page and try again.