Not Going Out guest Richard Osman: 'If my kids don't laugh, it's Lee Mack's fault'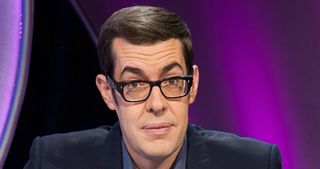 (Image credit: BBC/Remarkable Television, an En)
Agreeing to do a favour for a friend can land you in all sorts of trouble, as Pointless adjudicator Richard Osman found out recently when his mate of six years, Lee Mack, asked him if he might appear in an episode of his BBC1 sitcom Not Going Out (Friday, November 21, BBC1).
How did Lee persuade you to appear in this special episode of Not Going Out?
"Lee suggested it very delicately and I'm such a fan of his that I didn't need any persuading. However, I didn't realise I was going to be in it quite as much. Obviously I was happy to sit behind my desk and say, 'This is Round Two,' but when I looked at the script I thought, 'Hold on, there's stuff here with me chatting to contestants backstage and going to the loo!"
Did everyone make you feel relaxed?
"It was great fun and a brilliant team of people just told me what to do. I kept telling them to treat me like an idiot and, to their credit, they did."
In the episode, you fall out with Lee and find yourself the target of Daisy's advances. Was it fun to film?
"There are some brilliant lines in it and Katy dealt with having to fancy me very manfully! I was in such terror throughout though – even though I was playing myself, I just kept thinking, 'How do I act?' Xander [Richard's co-host Alexander Armstrong] is an actor, so it was easier for him."
Lee cheats to win the game. Would it be so easy for real contestants to steal the answers?
"The questions are kept under lock and key and they come nowhere near me – I've never been trusted with them because the producers know I would leave them somewhere!"
You haven't seen the finished episode yet, so when are you going to watch it?
"I'm planning to watch it with my biggest critics – my son and daughter. They're both big fans of Not Going Out and they watch a lot of TV comedy, so they'll view it as proper consumers. At the end they'll tell me whether it was any good or not. If it doesn't make them laugh then to my mind that's very much Lee's fault, I take no responsibility. And of course if they do laugh I take full credit. I suspect they'll be watching my bits through their fingers though!"
Has this given you the acting bug?
"I can confirm it hasn't. I'm sure that David [Mitchell] will not be asking me on Peep Show, I'm almost certain of it. If he did I'd obviously give it some serious consideration. I loved doing Not Going Out and I really appreciate Lee asking us, but I'm not thinking I'd like a role in the next Bond film. Although Bond is a good booking for Pointless if you can get him!"
Get the What to Watch Newsletter
The latest updates, reviews and unmissable series to watch and more!