Ewan McGregor WILL play Obi Wan-Kenobi in Star Wars spin-off series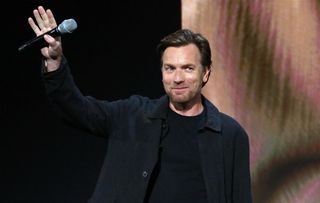 (Image credit: Jesse Grant)
The actor announced the news at Disney's D23 Expo yesterday.
Ewan McGregor confirmed that he is set to reprise his role as Star Wars Jedi master Obi-Wan Kenobi in an upcoming Star Wars spin-off series, which will air on Disney's new Disney+ streaming service.
'It's been four years of saying, "Well, I don't know," he told fans at the convention. 'Now I can say, "Yes, we're going to do it!"'
The Scottish actor played Obi-Wan in the three Star Wars prequel films, which began with 1999's Star Wars: Episode I – The Phantom Menace.
Lucasfilm boss Kathleen Kennedy revealed that filming will begin in 2020. 'We have all the scripts written,' she confirmed. 'We're ready to start shooting next year.'
Fans have been waiting for McGregor's character to return since his last appearance in 2005's Revenge of the Sith. Plans for a standalone film in which he would reprise the role were reportedly shelved when 'Solo' failed to cause a stir at the box office.
Two other live action Star Wars series have also been announced: The Mandalorian, which will star Pedro Pascal as a bounty hunter on the planet Mandalore, and a series featuring Rogue One's Diego Luna as Cassian Andor, are both set to launch on the Disney+ platform.
The new Disney+ service is set to launch in the US on 12th November, rolling out across the world over the next two years. Viewers can also look forward to a new Muppets series, Marvel superhero films, a Lizzie McGuire reboot and even nature programmes.
Excited fans took to Twitter to celebrate, with a post from the official Star Wars Twitter account getting more than 25,000 retweets and 75,000 likes within a matter of hours. 'This is truly the best news of the day,' wrote one. 'Obi-Wan is the best, Ewan is the best, I'm so happy,' another added. 'I am freaking out here,' wrote another. 'We have been blessed thank you Ewan,' said a fourth fan. 'I'll take 8 hours of Obi-Wan goodness over 2 hours any day,' a fifth agreed.
Get the latest updates, reviews and unmissable series to watch and more!
Thank you for signing up to Whattowatch. You will receive a verification email shortly.
There was a problem. Please refresh the page and try again.