Palio | Film review - Intrigue, passion and a gripping duel in the world's oldest horse race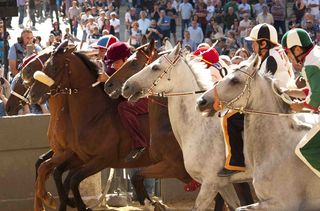 (Image credit: Photograph by Guillaume Bonn)
To the uninitiated, Siena's Palio is simply a horse race in fancy dress. A breakneck, bareback ride around the city's main square, the race is over in less than a minute and a half, while the pageantry that precedes it goes on for hours. An outsider could be forgiven for wondering what all the fuss is about.
Anglo-Italian filmmaker Cosima Spender's fascinating documentary Palio gives us an insider's view of what is really going on, revealing both the passions that sustain the eight-centuries-old contest and the devious scheming that goes on behind the scenes.
Shot during the run up to the two Palio races in the summer of 2013, on 2 July and 16 August, her film focuses on the gripping rivalry between two of the leading jockeys, or fantini, as they prepare to ride, without saddles or stirrups, for three laps of the city's Piazza del Campo.
Siena-born veteran champion Gigi Bruschelli is the preeminent insider, winner of 13 races and a Machiavellian master strategist. Sardinian outsider Giovanni Atzeni is the ambitious young contender, the former protégé seeking to unseat his old mentor.
Yet victory doesn't necessarily go the best jockey or fastest horse. As Spender shows, the wheeling and dealing that surrounds the Palio is equally important. The fantini are hired, often for huge sums, to race for one of the competing districts, or contrade. (Siena has 17 contrade and 10 compete in each of the summer's two Palios).
And the intense rivalry between the contrade ensures that secret deals and barefaced bribery are rampant. Complicating matters still further, each jockey is allocated his horse by lot only days before the race.
To guide us through these intrigues, Spender turns to a handful of Palio experts, including retired jockeys Andrea de Gortes ('Aceto') and Silvano Vigni ('Bastiano'), who supply riveting insight into the contest and its baffling lore. But what makes Spender's film so compelling is the duel between her charismatic chosen jockeys as they seek to impose their wills on the pell-mell tumult of the world's oldest race.
Certificate 12A. Runtime 91 mins. Director Cosima Spender.
http://www.youtube.com/watch?v=3NGAIKMtvxY
Get the latest updates, reviews and unmissable series to watch and more!
Thank you for signing up to Whattowatch. You will receive a verification email shortly.
There was a problem. Please refresh the page and try again.